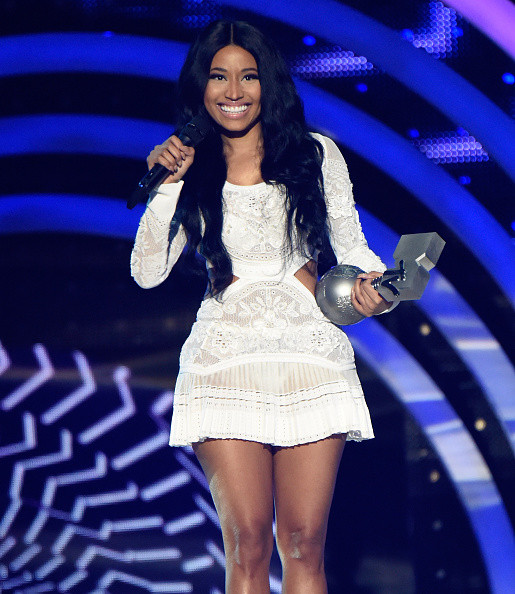 Amid controversy over her 'Nazi-inspired' Only music video, Nicki Minaj has stepped out with her Jewish boyfriend Grizz Lee.
The Young Money rapper was forced to apologise after the short animation which contained questionable imagery offended millions of fans, holocaust survivors and members of the Anti-Defamation League.
But the Young Money rapper, who previously dated Safaree Samuels, appeared to have put the drama behind her when TMZ caught up with her and the videographer, whose real name is Alex Loucas, at Los Angeles International Airport.
The new couple attempted to keep their outing low-key as they strolled side by side through the airport following their trip to Glasgow, where Minaj had hosted this year's MTV Europe Music Awards.
When questioned about the allegedly anti-Semitic video she responded: "This is my new Jewish boyfriend. Why would people think that? We did this together".
Minaj's new beau is the man behind her new promo, which features Chris Brown, Drake and Lil Wayne and shows Minaj as a dictator leading thousands of soldiers armed with tanks and guns. It was widely condemned for glorifying Nazism.
In a series of posts on Twitter, the performer claimed that the animated film had been inspired by film franchise Sin City and a cartoon called Metalocalypse seen on Cartoon Network and not the black and white Nazi-propaganda films of German director Leni Riefenstahl.
She also claimed that the concept was not her idea and said that the person who oversaw it - Loucas - is Jewish.
"I didn't come up with the concept, but I'm very sorry and take full responsibility if it has offended anyone. I'd never condone Nazism in my art," she told her 18.3 million followers.
"Both the producer and person in charge of overseeing the lyric video (one of my best friends & videographer: A Loucas), happen to be Jewish.
"The artist who made the lyric video for Only was influenced by a cartoon on Cartoon Network called Metalocalypse and Sin City."