Nigel Farage Declares Class War as Ukip Targets Local and EU Elections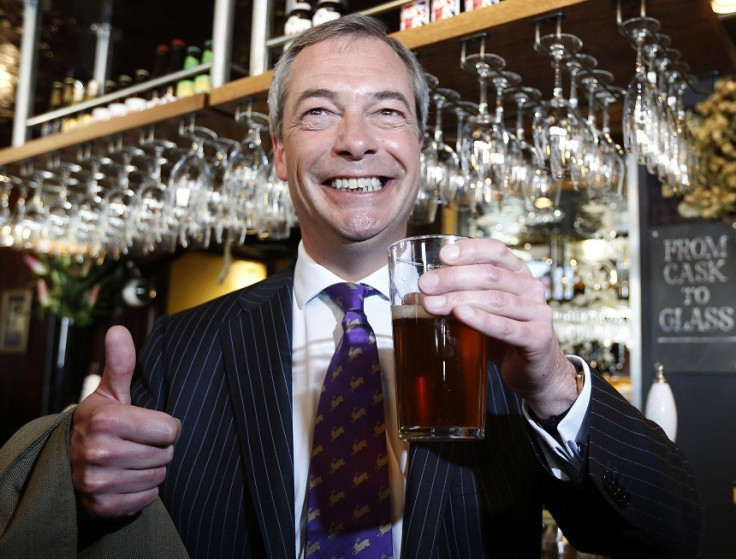 UK Independence Party leader Nigel Farage has declared class war on his rivals ahead of campaigning for seats in local and EU elections.
Farage insisted his anti-Europe message was winning with voters who had been "left behind" by social change, caused by Britain's membership of the European Union.
He accused the three main parties in Britain of being out of touch with the man in the street on jobs and the pace of integration with Europe.
Yet Farage refused to back his anti-EU party on winning a seat in parliament at the next general election, claiming it would come down to "luck".
Speaking at Chatham House in central London, Farage said: "Our real potential is defined by people's class and not political background. Ukip started up as a party which campaigned on constitutional issues, but what has changed is the language we use, our approach and our campaigning tactics. I've been determined to talk to people in language they understand.
"There are millions of people out there with no intention of voting Labour, Tory or Lib Dem again, who have given up voting wilfully and are looking for a politics which says something."
But Conservative MP Laura Sandys rapped Farage for "shallow and simplistic" policies, which she told him would be "undeliverable" in the real world.
Forty nine-year-old former City trader Farage claimed the "penny had dropped" with voters on Europe and that people liked Ukip for being clear about wanting out of the EU.
He admitted Ukip had appeared "repugnant" to women due to sexist outbursts by senior party figures such as Godfrey Bloom.
Farage admitted: "If you look at the representatives of Ukip and some of the things they have said, then it looks repugnant."
But he denied his party's support depended upon "retired half-colonels" who were stuck in the past and heaped scorn on the "professional carer political class" for alienating people from politics.
"The 7 percent of people who went to public schools are determining our lives as never before. The opportunity for people lower down the spectrum have sunk lower and lower," Farage said.
Ninety-five percent of the most Ukip 'friendly' seats in England were held by Labour, according to political author Matthew Goodwin.
He said Ukip was "feeding off a deep class division in society" which posed a bigger challenge for Labour leader Ed Miliband than the Conservatives. Up until 2010, most of Ukip's support came from voters who had abandoned Labour.
© Copyright IBTimes 2023. All rights reserved.