Nigel Farage is keen to play a role in the relationship between the UK and US and has not dismissed the idea of taking on a diplomatic position.
In an interview with CNN on 24 November, the interim Ukip leader said that considering "anything is possible", he is open to Donald Trump's recommendation that he be made ambassador to the US, despite not having experience in the Foreign Office.
"In normal terms, I wouldn't necessarily put the words 'Farage' and 'Ambassador' together. However, 2016 has been a year of dramatic change, so I think anything is possible," the figure head of the Brexit movement said.
"But Mr Trump may think it's a very good idea, the question is 'What does Mrs May think?' and so far, I have to say, over the last couple of weeks since I met the president-elect, I keep saying I would love to play a constructive middle-man role between the administrations, but they don't seem to want me for some reason."
His comments come after Trump recommended Farage for the position claiming that he would do "a great job". However, Downing Street already rejected the recommendation citing "there is no vacancy".
"I don't think I'm going to be made British ambassador, let's be honest. I'm not Foreign Office... maybe I'm not the type," Farage told the new channel. "But I did have 20 years in business before getting involved with politics, I do know how to cut deals, I do have the support, amazingly, of the president-elect, and I do know a number of his team, some of whom I've known for years. I am very keen for Britain and America to get closer again.
"My critics would say I've spent my career trying to knock down, buildings...well now I'd like the chance to try and help build one," he added.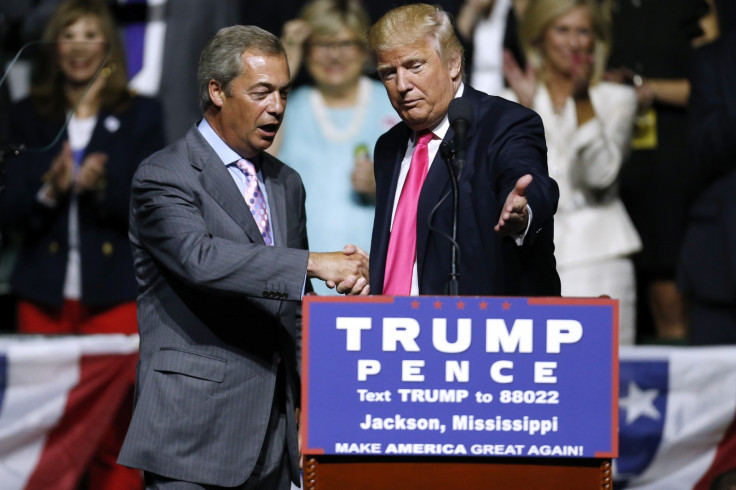 Offering his opinion on Trump's choice for chief strategist, Steve Bannon, Farage spoke highly of the former Breitbart News chief. "He's a brilliant man. He's a man who's succeeded in the military, he's succeeded in business, he's succeeded in Hollywood, and now he's succeeded in politics – remarkable," he noted.
Further, the interim Ukip leader went on to defend Bannon against reports that the latter was racist and a white supremacist. "I've spent a fair amount of time with him in an office environment, but equally in a social environment as well, I've never heard him say a single racist thing... I would not be writing for Breitbart, I would not have the association with them if I thought Bannon was anything other than a decent democrat, who believes in democratic change for America," Farage added.