Interim Ukip leader Nigel Farage's loyalty towards Donald Trump appears to have paid off as the US president-elect recently suggested that the British politician would make a great UK ambassador to the US. Farage too had offered to act as a bridge between the two countries, citing his links with the business tycoon-turned-politician.
However, snubbing Trump's suggestion, Prime Minister Theresa May's office reportedly said that there was "no vacancy" for the position as of now.
In a tweet on Monday (21 November), Trump wrote: "Many people would like to see @Nigel_Farage represent Great Britain as their Ambassador to the United States. He would do a great job!"
The tweet came just over a week after the two met at Trump Tower in New York. Farage was the first British politician to meet the president-elect following his thumping victory in the 8 November election. Trump's spokeswoman Kellyanne Conway had termed their meeting as "incredibly productive".
Trump is currently in the process of forming his cabinet before he assumes office on 20 January. Most of his selections and nominations have raised eyebrows in political circles, with many critics stating that the Trump administration seems poised to carry forward its alleged ideologies of "hatred" and "bigotry".
However, it is also being said that Trump is rewarding loyalty by picking people who have remained with him through thick and thin.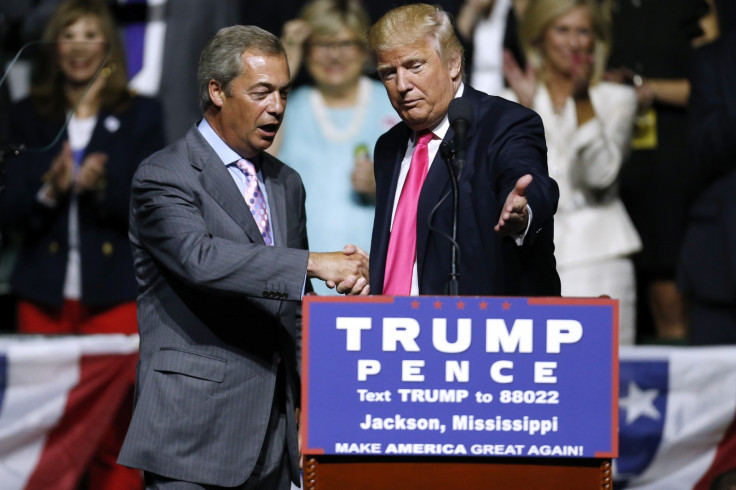 Farage was among those British politicians who extended support to the Republican during his election campaign. The 52-year-old author even campaigned for Trump in Mississippi in August.
Recently, the Ukip leader had suggested that it was time to replace Sir Kim Darroch, the current British ambassador to the US, with someone who can interact more efficiently with the incoming Trump administration.
"He's [Darroch] part of the old regime isn't he. He's a fanatical europhile. He's part of the old regime. His worldview and the worldview of the Trump team are going to be diametrically opposed.
"I would have thought it would be more sensible to put someone there who was likely to get on with Team Trump," Farage told the Sky News soon after his return from the US following his 12 November meeting with Trump.
May is facing growing pressure from the cabinet to exploit Farage's close connection with the incoming US president to deepen ties with Washington, but the prime minister has dismissed any such possibilities.
The latest reaction from May's office to Trump's suggestion reiterates her stand on the issue.
"PM's spokesman says there is no vacancy for an ambassador to U.S. after Donald Trump tweeted that UKIP's Nigel Farage 'would do a great job'," Sky News tweeted on Tuesday, 22 November.
Editor's note: This article has been updated to incorporate Prime Minister Theresa May's spokesman's comment.