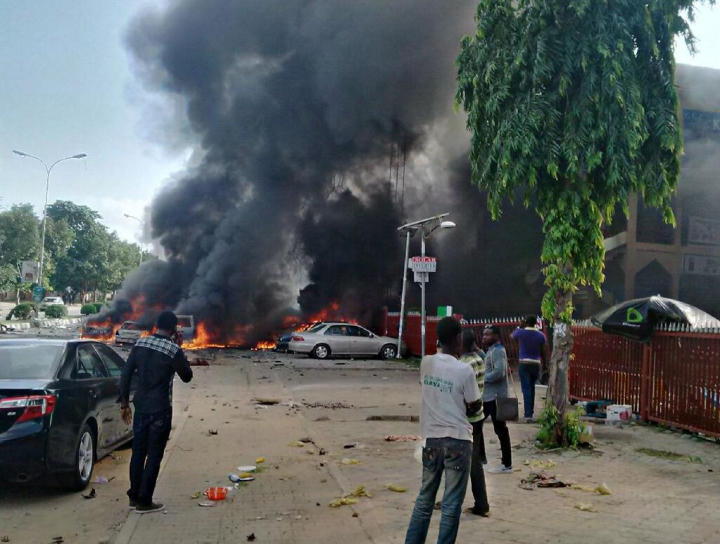 At least 21 people have been killed and 17 injured in a blast at a shopping centre in the Nigerian capital of Abuja, police have confirmed.
The bomb blast rocked the busy Emab Plaza shopping complex, located in the Wuse district of Abuja.
The area was said to be packed with shoppers at the time of the blast, which could be heard from miles away.
Witnesses reported seeing a number of bodies and dismembered limbs scattered around the exit of the building.
Many people were seen running from the complex with blood on their clothes. Cars parked outside the shopping complex were burnt out with windows shattered.
Chiamaka Oham, who was near the site of the blast, described a scene of carnage.
"We heard a really loud noise and the building shook, and people started screaming and running out. We saw the smoke and people covered in blood. It was just chaos."
Nigerian emergency services are at the scene to assist those wounded in the attack, while police are securing the "crime scene".
Police spokesman Frank Mba told reporters: "After a preliminary investigation we can confirm that 21 people were killed and 17 injured. Our most important assignment now is to secure lives, secure the crime scene and actually carry out preliminary investigations."
No group has yet claimed responsibility for the attack, but it is suspected that Boko Haram militants are behind the latest attack to rock the Nigerian capital.
The Islamist militant group claimed responsibility for two separate explosions in Abuja in April, which left 120 people dead.
On Monday, a bomb at a medical college in Kano, killed at least eight people.
Last week, 14 people died in a bomb blast at a World Cup viewing site in Damaturu.
In May, twin car bombs in the central city of Jos left more than 130 people dead; and a car bomb at a bus station killed 24 people in the Christian quarter of Kano.
Boko Haram attracted international condemnation for the mass kidnapping of more than 200 schoolgirls in April who remain missing.
More than 2,000 people have already been killed by the terror group this year alone as they have escalated their attacks causing concern in the international community.
Boko Haram aims to establish an Islamic state in Nigeria, whose 170 million population is divided almost equally between Muslims, who are dominant in the north and Christians in the south.