Nigeria Zaria killings: Army quickly buried 300 Shia Muslims killed in 'unjustified violence'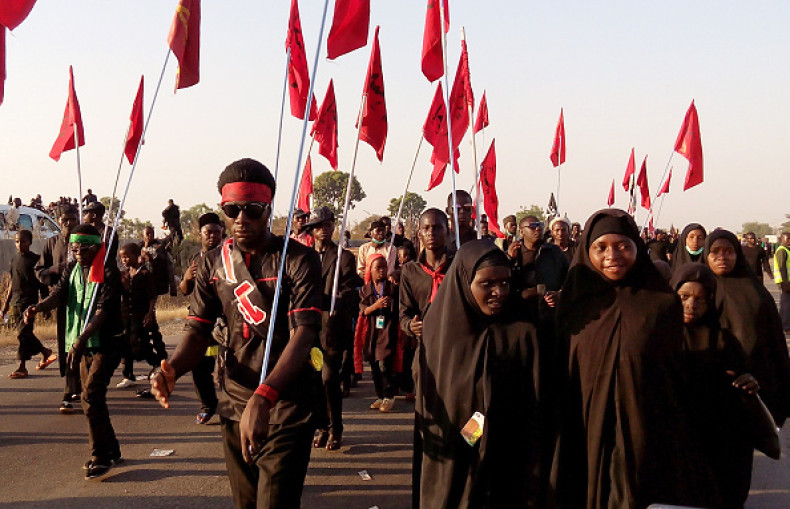 The Nigerian army has been accused of having "quickly buried" hundreds of corpses of Shia Muslims killed in Zaria city, Kaduna state, earlier in November. A rights group warned at least 300 Shias were killed and hundreds more injured during raids at the house of Ibrahim Zakzaky (head of the Islamic Movement in Nigeria (IMN)), at the Hussainniya Baqiyyatullah mosque, and at a local religious centre.
What is the Islamic Movement In Nigeria?
The Islamic Movement in Nigeria (IMN) is a religious and political organisation that aims to create an Islamic state through an Islamic revolution like the one that occurred in Iran in 1979.
Both Shia and Sunni Muslims are part of the movement, led by Ibrahim Zakzaky. IMN members often hold processions, mainly in Zaria, to raise awareness of their movement, which also advocates the liberation of the Palestinian territories controlled by Israel.
Both sides have accused each other of instigating the violence. The army alleged members of the sect tried to kill the chief of army staff, Tukur Buratai, by erecting a makeshift roadblock on a road his convoy was travelling on during an official visit in the state.
IMN denied the allegations and accused the police of attacking and killing hundreds of unarmed people. Human Rights Watch (HRW) accused the army of using unjustified violence against the sect members.
Daniel Bekele, HRW Africa director said in a statement: "It is almost impossible to see how a roadblock by angry young men could justify the killings of hundreds of people. At best it was a brutal overreaction and at worst it was a planned attack on the minority Shia group."
HRW, Amnesty International and other groups have called on the Nigerian government to conduct an investigation on the alleged army violence, which prompted protests in several states in northern Nigeria. President Muhammadu Buhari is yet to make a comment on the incident.
Speaking to IBTimes UK, defence spokesperson Rabe Abubakar said: "It is an unfortunate incident. People should behave in a different manner and respect everyone's rights."
Meanwhile, Iran urged the Nigerian government to respect Shia Muslims in the country. Iran's Grand Ayatollah Lotfollah Safi Golpaygani also expressed concern over the alleged killings and urged the international community to condemn it.
This is not the first time the Nigerian army has been accused of opening fire on IMN members. In July 2014, at least 34 members of the sect – including three of Zakzaky's sons – were killed by the army in the aftermath of a pro-Palestinian protest in Zaria.
The incident sparked international outrage and prompted a probe by the Islamic Human Rights Commission (IHRC) on the role of the army during the killings.
---