Nigeria's first lady, Aisha Buhari, has warned the country's president – Muhammadu Buhari – that she might not support him in the next 2019 elections if he fails to rearrange his government.
In an interview to BBC, which will be aired on Friday (14 October), Aisha said the government had been "hijacked" and alleged that her husband "does not know" most of the top officials he has appointed. She also claimed that a "few people" were behind presidential appointments.
"The president does not know 45 out of 50, for example, of the people he appointed and I don't know them either, despite being his wife of 27 years," the first lady told BBC.
The interview was partly aired on Tuesday, where Buhari's wife said that the people who worked for her husband to become the president have been side-lined while some others have taken over his government.
President Buhari was elected in 2015 with a promise to tackle corruption and discrimination in the government.
However, the first lady said in the interview that people who did not share the idea of All Progressives Congress (APC) were now appointed to top posts because of the influence a "few people" exercise.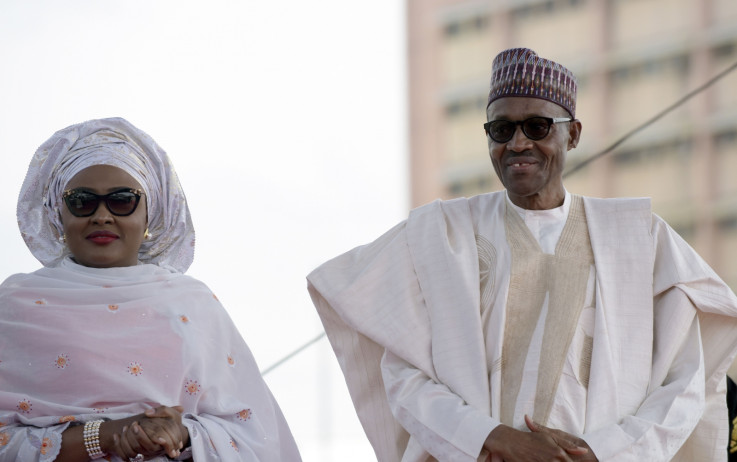 Nigerian President Mohammadu Buhari arrives with his wife Aisha, before taking oath of office at the Eagles Square in Abuja, on May 29, 2015
PIUS UTOMI EKPEI/AFP/Getty Images
"Some people are sitting down in their homes folding their arms only for them to be called to come and head an agency or a ministerial position," Aisha said. However, she refused to name those who have paralysed the government.
The West African country's first lady also stated that President Buhari had not told her whether he would contest the next presidential election but asserted that "as his wife, that if things continue like this up to 2019, I will not go out and campaign again and ask any woman to vote like I did before. I will never do it again".
In the interview, Aisha also mentioned the government's major achievements like improved security in the north-east, where militant Islamist group Boko Haram has waged an insurgency since 2009.
"No-one is complaining about being attacked in their own homes. Thankfully everyone can walk around freely, go to places of worship, etc. Even kids in Maiduguri have returned to schools," she said.
Meanwhile, an online publication — Daily Trust — has reported on Thursday that the president has sent a letter to Abuja Bureau of BBC, asking the agency not to air the interview. It was also been reported that the Speaker of the House of Representative, Yakubu Dogara, also tried to informally dissuade the BBC from airing the interview.