The Swiss government has confirmed to IBTimes UK that it helped broker negotiations between Nigeria and Boko Haram terrorists. On 13 October, Nigeria claimed that 21 out of 219 girls kidnapped by Boko Haram in 2014 had been freed thanks to negotiations "brokered by the Red Cross and Switzerland."
"At the request of the Nigerian government, Switzerland facilitated contacts between representatives of the Nigerian government and intermediaries of Boko Haram on the release of the Chibok girls," Pierre-Alain Eltschinger, spokesperson for the Swiss ministry of foreign affairs, said.
"Switzerland's commitment is grounded in humanitarian concerns. Switzerland's engagement in this operation was guided by the principles of neutrality and non-interference. The role that the Nigerian Government has asked Switzerland to play is fulfilled. Switzerland welcomes the release of 21 Chibok Girls and calls for the liberation of all the remaining girls as soon as possible."
Nearly 300 schoolgirls were kidnapped as they were attending evening school in Chibok, in the restive Borno state, on 14 April 2014. Allegations followed that they had been sold as sex slaves, forced to marry their abductors and used as suicide bombers.
Some girls managed to escape, with one rescued in the Sambisa forest earlier this year. Following the recent government statement, it is believed at least 198 are still missing.
Although the Chibok abduction was not the first mass-kidnapping carried out by the terrorists, it was the only one that attracted international outrage. It led to the creation of the global movement Bring Back Our Girls, which shone a spotlight on the deadly insurgency of Boko Haram that had previously been under-reported.
The release of the girls 'likely a swap'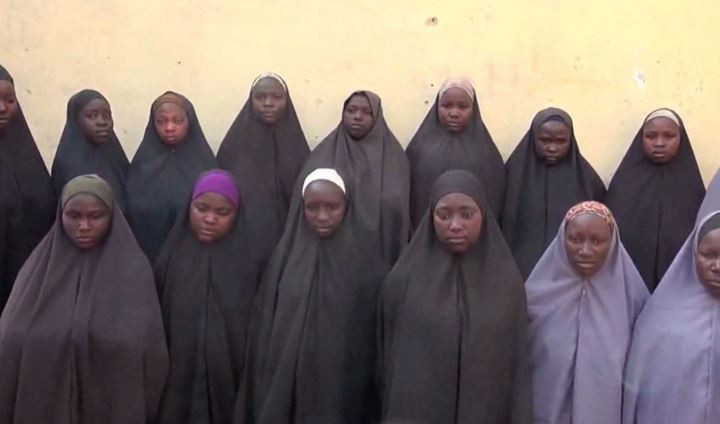 Boko Haram has often asked for the release of some of its fighters in exchange for the girls. David Otto, counter-terrorism expert at UK-based TGS Intelligence Consultants told IBTimes UK it is believed the 21 girls were freed in exchange of four Boko Haram commanders, something the government has denied.
"From the last video of[Boko Haram leader Ababukar] Shekau – if the girls are from his faction – then it is likely a swap rather than a peaceful negotiation," he said. "It will be unlikely for this girls to be released in that number without a swap with Boko Haram key leaders held all over Nigeria. I am sure the official details will give us more clarity."
Otto, who is also a senior adviser for Global Risk International (GRI), added that 18 out of the 21 girls had babies, probably children of Boko Haram fighters.
---
Nigeria up close: Check out our Flipboard magazine
---
Who are Nigeria's Boko Haram?
Boko Haram, which has renamed itself Iswap, fights against Western influence in Nigeria and aims to impose its version of Sharia law throughout occupied territories.
The group launches attacks in Nigeria and neighbouring countries in a bid to take control of more territory. Three Nigerian states – Adamawa, Borno and Yobe − have been under a state of emergency since May 2013.
Boko Haram has killed more than 20,000 people since 2009 and was deemed the world's deadliest terror group, surpassing Islamic State in November 2015. Nigeria has also become the world's third-most terrorised country as a result of the group's violent insurgency.