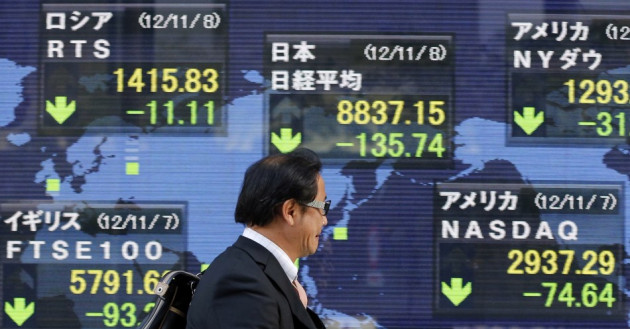 Asian markets have dropped in the morning trade, as domestic economic concerns added to worries over the US 'fiscal cliff' and European debt crisis.
Japan's Nikkei was down 0.34 percent or 29.16 points to 8647.28 at 02:53 GMT while South Korea's KOSPI dropped 0.62 percent or 11.83 points to 1889.04.
China's Shanghai Composite index tumbled 1.04 percent or 21.69 points to 2057.58. Hong Kong's Hang Seng traded 0.77 percent or 165.65 points lower to 21264.65.
Investors in Japan started the day on a rather positive note, with the Nikkei opening 0.04 percent higher after making losses in the past six days. But concerns over the local economy continued to weigh on investor sentiments.
Official data had shown that Japan's economy contracted 0.9 percent in the three months ending September. The data, which followed a number of other weak economic indicators, have raised speculations that the country may be on the brink of recession.
"We expect no major improvement in the export environment before the end of 2012, and thus we see a high likelihood of further GDP contraction in Q4," said analysts at Nomura Research in Tokyo. Two straight quarters of economic contraction is commonly considered as an indicator of recession.
US Markets had closed the previous session lower on concerns over the 'fiscal cliff', a combination of budget cuts and tax hikes that will come into effect in the next year. Reports suggest that the country's lawmakers have set a seven-week deadline to reach a consensus to solve the issue.
Concerns over the Greek economy continued. Despite the Athens agreeing to a tight budget, the eurozone ministers who met in Brussels did not unlock the much-needed monetary aid for the country. European Union officials and eurozone finance ministers will consider the issue again on November 20.
Major Movers
Construction-related stocks were down in Tokyo. Shimizu Corporation fell 5.44 percent while Taisei Corporation slipped 3.37 percent. Shares of Kajima Corporation dropped 2.91 percent.
Electronics major Olympus Corp gained 5.06 percent after the company reported better-than-expected profits in the second quarter.
Shipping related investment firms Korea Pacific No. 07 Ship Investment Company and Korea Pacific No. 06 Ship Investment Company traded lowest in Seoul, dropping 14.34 and 13.56 percent respetively.
South Korean shipbuilders too extended losses. Daewoo Shipbuilding and Marine Engineering Company and Hyundai Mipo Dockyard Company were down 4.80 and 2.64 percent respectively.
Lifestyle retailer Espirit Holdings was down 4.32 percent and real estate investor New World Development Company traded 2.62 percent lower in Hong Kong. Both were the lowest in Hang Seng.
In Shanghai, utility major Datang Huayin Electric Power Company and automobile parts manufacturer Anhui Quanchai Engine Company performed worst, dropping 10.05 and 9.67 percent respectively.