Nokia's Here maps application is now available for iPhone and iPad from the Apple App Store, bringing spoken turn-by-turn directions, public transport routes and traffic information in an app that will hope to offer an alternative to Apple's much-criticised iOS 6 Maps.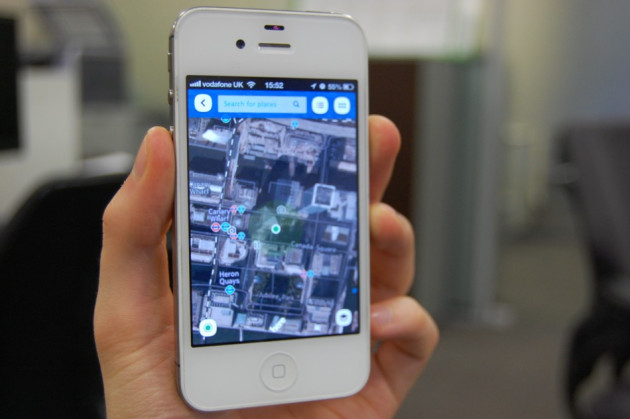 Here looks a lot like the maps application of recent Symbian phones and as a result feels a little dated compared to rivals from Bing and Google, with place and street names not looking as sharp as they could - it's like looking at a non-Retina app, although the menus and buttons are sharp and clear.
The satellite images aren't as up-to-date as we would have liked. A good test for this was to navigate to the Olympic Park in east London, where we found the area to be mostly excavated land, with half of the stadium built, suggesting the images are a few years ago.
Move out of major towns and cities, though, and the satellite image quality falls away dramatically, York being a particularly bad example, with poor detail even in the city centre; hopefully Nokia will update its images soon.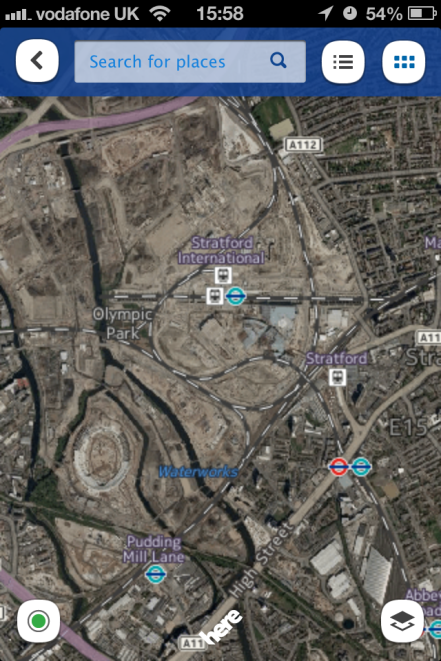 Switch back to the regular mapping view and there is more detail than the native iOS 6 Maps app, which forces you to zoom in a long way before street names appear - there are no such problems with Here.
There's also live traffic, accident reports and public transport routes, although the traffic conditions only work on major roads and public transport only shows railway and underground lines in major town and city centres - move out of town and you're left with thin grey lines for railways, compared to the thicker and brightly coloured central lines.
Turn-by-turn directions work as expected, but Here only gives spoken directions when in walking mode, so the app can't really be used as a replacement for your in-car satellite navigation, as it would require you to read the screen, rather than just listen to commands.
For walking the app is good, with clear and accurate voice commands; when we selected our route the app warned us to "keep an eye out for cars and other urban challenges," whatever they might be.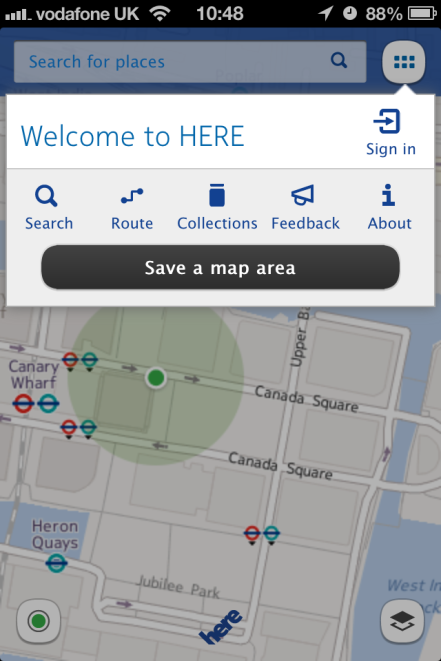 It's also worth noting that the voice cannot be accessed until you download a small 2MB patch, which installed in just a few seconds.
Maps can be saved to view offline, but the larger the map, the lower the level of detail. We selected most of central London, which came in at 23MB and was downloaded in around a minutes over W-Fi, but we weren't able to zoom in far enough for the map to be of much use, which is a shame.
Here's ability to find our current location was fast and accurate, but it would correct itself occasionally - only by a tiny amount, but each time it corrected the map sprung back to show our current location.
So if we were looking for something in Manchester and the app decided it's current location wasn't quite accurate, it would fly back to show our updated London location, which it really didn't need to do. We're glad to see the app wanting to be accurate, but forcing us to find our search place again was annoying.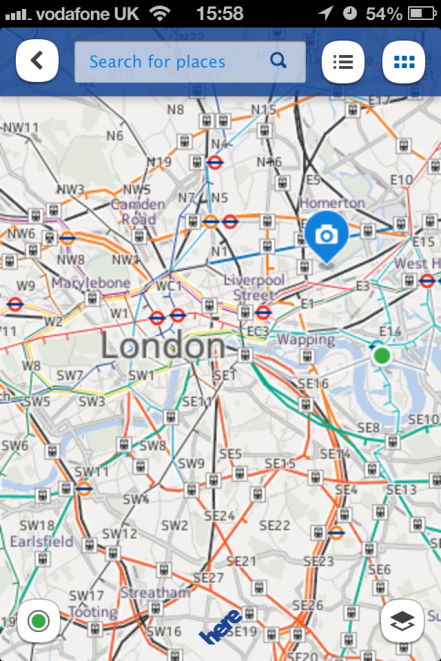 Apple iOS 6 Maps struggles to understand what you're searching for unless you know the full address, but Here had no such problems in understanding what we wanted with just the first few letters of a town, street or pub, and it did a good job of working out if we wanted a town centre far away, of a shop with a similar name just around the corner - iOS 6 maps really struggles with this.
Overall, Nokia has a good mapping application that didnt take long to get used to and proved to be more accurate than Apple's alternative. There's no access to your contacts, so you will have to insert their addresses manually, the satellie images need an update and we'd really like to see voice commands while driving; it's a good start by Nokia, and we hope to see some updates soon.
Here maps is available free from the App Store now.