Nokia is developing the 6in Lumia 1520 'Bandit', its own super-sized smartphone to rival the Sony Xperia Z Ultra and Samsung Galaxy Note 3, and following unreliably blurry shots of the device, a press-quality image has finally arrived.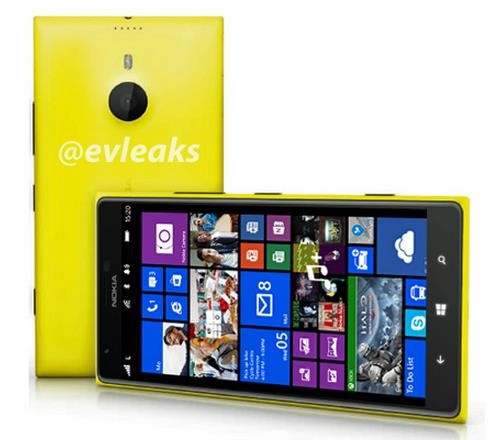 Published by notorious smartphone leaker EvLeaks, the image shows what is claimed to be the Lumia 1520 - codenamed Bandit - with a bright yellow back, a large camera lens which appears to be the same as the 41-megapixel sensor found in the Lumia 1020, and a home screen packed with the familiar Windows Phone 8 tiles.
The giant phone is expected to have a 6in display with a full 1080p HD screen, with power coming from a Qualcomm quad-core Snapdragon processor. Running an updated version of Windows Phone 8 known as GDR3, the Lumia 1520 will be one of the first Windows phone to get an additional column of Live Tiles on the home screen, thanks to support for 1080p resolutions - something the Microsoft platform has not yet offered.
Claims of a full HD resolution for the Lumia 1520 are backed up by a screenshot leaking earlier this week and measuring 1080 x 1920 pixels.
GDR3 (standing for General Distribution) is also expected to bring rotation lock, a driving mode to limit functionality while used for satellite navigation and minor user interface changes to Windows Phone 8.
Although not yet confirmed by Nokia, the Lumia 1520 is expected to be released before the end of the year, a claim backed up by EvLeaks, which has an impressive record for reliable leaks.
Releasing a smartphone this big will take Windows Phone 8 into the growing Phablet market, where competition from Sony and Samsung is heating up, along with claims that Apple is developing a 6in version of the iPhone, although that could still be a year away.
Following the announcement earlier this week that Microsoft is to acquire Nokia's phone making business, questions were asked about if we would ever see another Nokia smartphone, and suggested the Lumia 1020 would be the last. It is unclear if Microsoft will keep the Nokia name, call future devices Microsoft Lumia, or ditch the name entirely in favour of its own Surface brand.