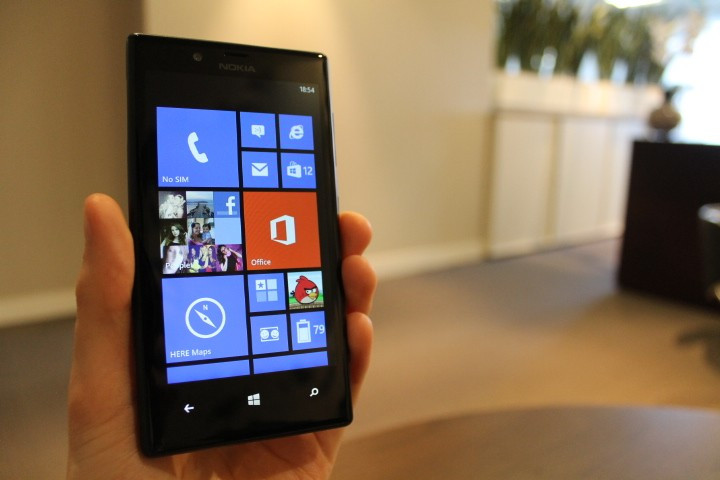 Key Features:
4.3in LCD screen with 480 x 800 resolution, 217 pixels per inch
Dual-core 1GHz processor with 512MB of RAM
8GB internal storage with microSD card slot, up to 64GB
6.1-megapixel camera with LED flash and 720p HD video recording
Nokia Lumia 720: Introduction
Just eight months after the launch of Windows Phone 8 last October, Nokia has created a wide range of handsets aimed at almost all areas of the smartphone market, from the budget Lumia 520 up to the range-topping Lumia 925.
Sitting in the middle is this, the Lumia 720, which has none of the 820 and 920's bulkiness, but still packs a large 4.3in display, dual-core 1GHz processor and a Carl Zeiss camera lens. Priced at £300 SIM-free, the Lumia 720 is a mid-range phone aimed at those who want a smartphone, but can't justify £500+ on an iPhone, Galaxy S4 or high-end Lumia.
Nokia Lumia 720: Look and Feel
Where the larger and more expensive Lumia 820 and 920 felt unnecessarily chunky and overweight, the Lumia 720 has more in common with HTC's slim and slender Windows Phone 8 offerings.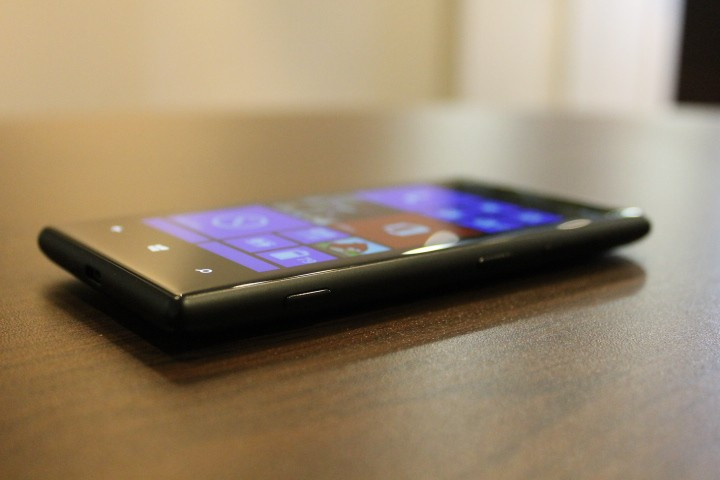 Thin, light and with tapered edges, the Lumia 720 doesn't pack the full-HD clout nor the market-leading camera technology of its bigger brothers, but it's certainly the easiest to hold and probably best looking member of the Lumia family to date - we're yet to review the Lumia 925, but the two phones are aimed at very different consumers.
For me, a 4.3in screen is just about the sweet spot, as the iPhone 5 is still arguably too small, while the Galaxy S3 and S4 are unwieldy and difficult to use with one hand.
The 720's screen bezel is acceptable, but I feel the phone could be shorter, as there's a lot of empty space below the screen making the three capacitive touch buttons for Back, Home and Search look lost.
Elsewhere, the 720 is an attractive and well-proportioned phone, with a micro SIM card tray and headphone jack at the top, volume rocker, power button and two-stage camera shutter button on the right, microSD card tray on the left, and a microUSB port on the bottom.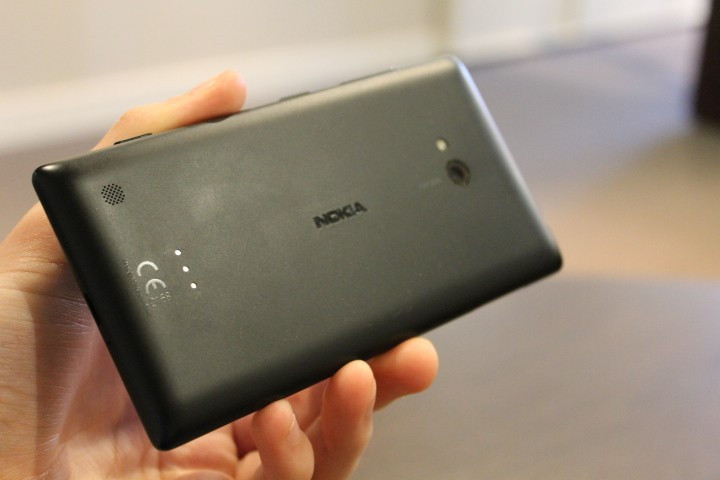 Above the screen there is a 1.3-megapixel front-facing camera for video calls and on the back there's a 6.1-megapixel camera with LED flash, a small loudspeaker and three metal dots which hook up to the optional wireless charging-enabled case, a feature no longer integrated as it is with the 820 and 920.
Although slimmer than its larger stablemates, the 720 still measures 9mm at its thickest point, but tapering around every edge helps to make the phone feel thinner than it is, and the 128g weight helps here too, making it much lighter than the 185g Lumia 920.
Nokia Lumia 720: Operating System and Performance
With a dual-core 1GHz processor and just 512MB of RAM, the Lumia 720 is distinctly mid-range, but that doesn't mean performance has been adversely affected. The low RAM means it'll struggle to play some intensive games - or simply be forbidden from downloading those which require 1GB - but for general use the 720 speeds along nicely.
During two weeks of using the 720 as my personal phone it rebooted just once - while using the camera, incidentally - but otherwise I didn't experience any sluggish performance, freezes or application crashes; this is a reliable and stable phone.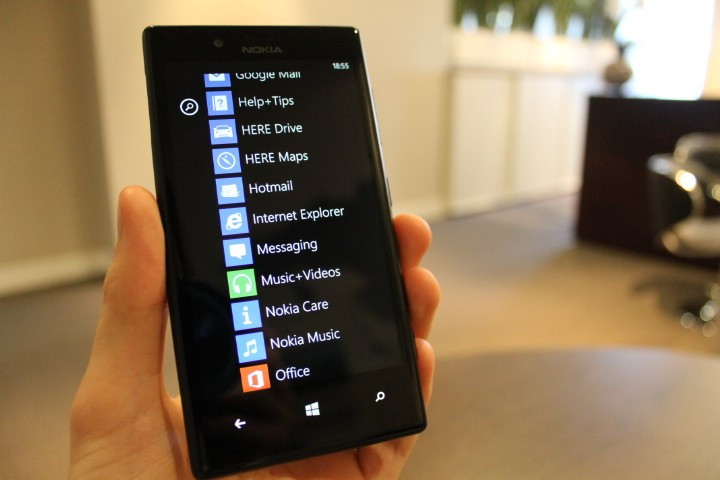 But Windows Phone 8 is still the weak link here. Eight months on and Microsoft still hasn't given WP8 a notification centre or panel to quickly alter common settings like Bluetooth and Wi-Fi. The application store is also still lacking big names like Instagram, and the BBC is yet to create its own applications, instead leaving third parties to create apps that do a poor job of scraping pages from the BBC News site.
The operating system may be stable, but opening some applications still throws up a 'resuming...' screen as the app launches; simply unacceptable for a phone costing £300, but unfortunately this is a trait of all WP8 devices regardless of their processor and RAM.
It isn't all doom and gloom though; the Lumia 720's battery life is phenomenal and should see all but the heaviest of user through two full days of use before running low. The 2,000 mAh unit is so good I thought the battery indicator had become stuck as it was hovered around 80% after a full day of photography and map-reading.
Nokia's bundled software is also excellent, and includes Here Drive, Here Maps and Nokia Music. The further inclusion of Office Mobile makes the Lumia 920 an excellent productivity phone, with the ability to create and edit Word and Excel documents, and review PowerPoint slides.
Don't let the spec-sheet put you off; the 720's performance is better than you'd think, the battery life is impressive, and it's only let down by the same Windows Phone 8 problems shared by others.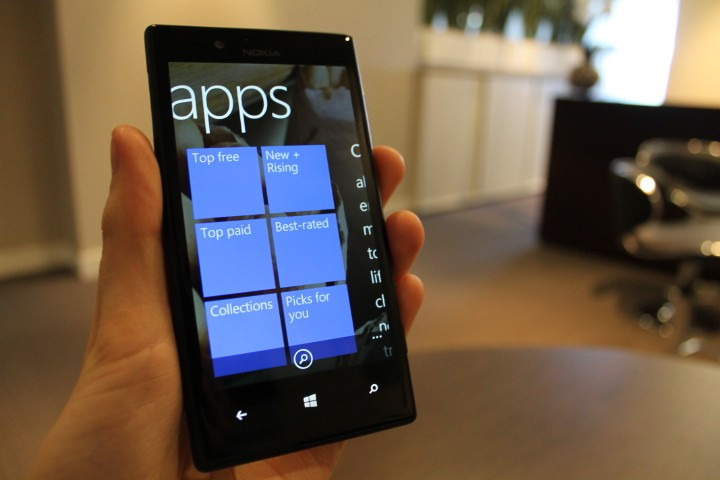 Nokia Lumia 720: Display
The rule of not judging a smartphone by its spec-sheet should also be applied to the Lumia 720's display. Measuring 4.3in, the screen size is just about perfect, but its 480 x 800 resolution and pixel density of 217 per inch could put off some potential buyers.
Of course, a higher resolution would be better and some text isn't quite as sharp as I'd like it to be, but Windows Phone 8, for all the negative points raised above, does an admirable job of getting the most out of lower resolution screens.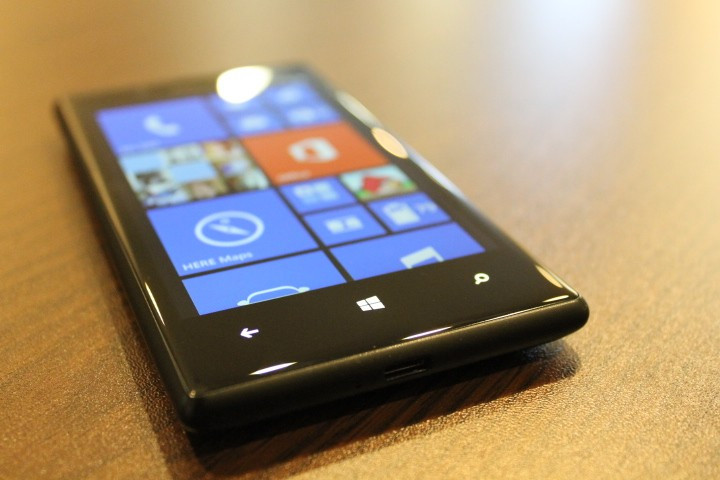 The tiled design and bold, bright colours no doubt helps to distract you from slightly jagged text, but I was surprised just how good the display looked considering its lack of pixels. Colour reproduction is excellent, contrast levels as so good that the home screen's black background is almost impossible to distinguish from the black chassis of the phone, and the viewing are also impressive.
Adding to that, the display is very responsive to touch, can be used while wearing gloves, and can be made bright enough to remain readable in direct sunlight.
Yes, some text s a bit fuzzy around the edges - especially against a white background - but I'm willing to forgive the Lumia 720 for this because every other aspect of its screen is top notch.
Nokia Lumia 720: Camera
Ever since the bonkers 42-megapixel 808 PureView, Nokia's have been known for their excellent cameras, and while packing a relatively small 6.1-megapixel sensor, the Lumia 720's camera is still a decent effort, if slightly overcome by bright natural light.
Taken on a sunny day, images can appear a little washed out and lacking in the sharpness offered by more capable smartphone cameras. There's enough detail, but don't expect to print the results on canvass - the results are great for social media sharing and keeping on the phone, but no match for a proper camera.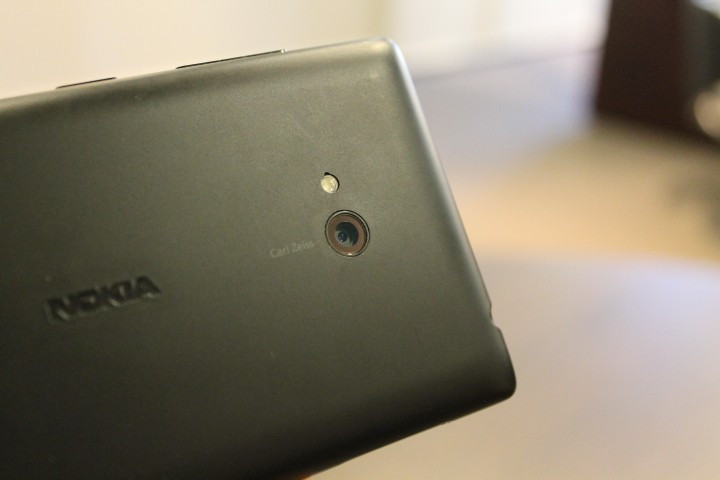 Dig into the photo settings, and you can select from five scene options (or leave it on automatic), four levels of IOS, 13 degrees of exposure, and four white balance options.
Nokia Lumia 720: Verdict
For hardware, the Lumia 720 is the Windows Phone 8 Nokia I always wanted. I was never a huge fan of the 920 or 820's chunky design, preferring the slimmer HTC 8S and 8X. So to that end, Nokia has done well with the 720, and for a mid-range phone the performance of processor, screen and camera is satisfactory, if nothing more.
Don't read too much into the spec-sheets and you'll be pleasantly surprised by the Lumia 720, but the annoying problems of Windows Phone 8 remain. I can't respect Microsoft enough for trying something totally different to iOS and Android, but eight months on and WP8 still doesn't have a notification centre, and those 'resuming...' screens shouldn't exist on any mobile device in 2013, never mind a £300 smartphone.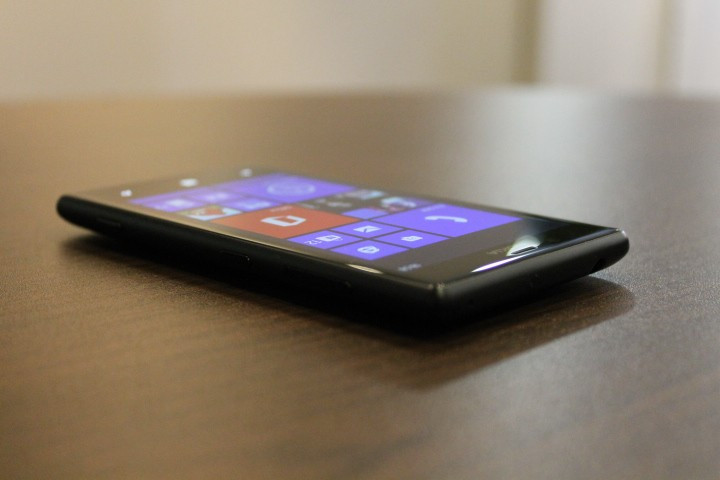 Despite that, the Lumia 720 still makes the chunkier and more expensive 820 obsolete unless you really want the latter's wireless charging. Judging by this 720 and the slimmed down Lumia 925, Nokia is moving away from square and chunky, and onto a new chapter in the company's design where slim and light rule. Led by the 720, this is a move I'm happy to see Nokia take.
Scores:
The Good:
Slim, light and attractive
Very impressive battery life
The Bad:
Windows Phone 8 still has problems
Camera struggles in bright light
Lack of RAM will be a problem with future games