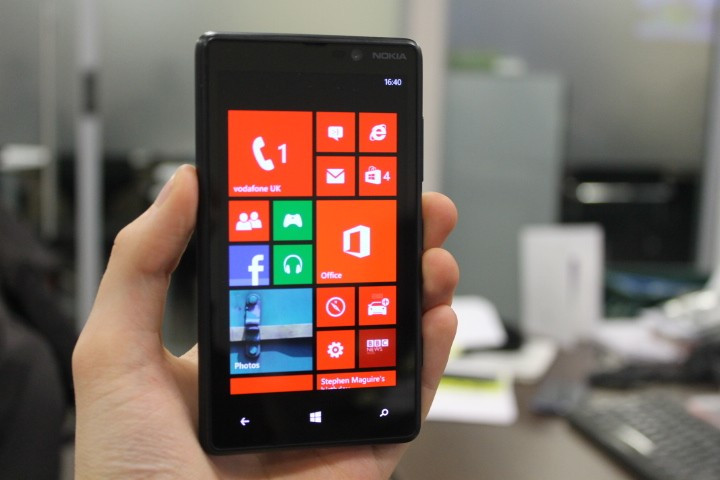 Key Features:
Windows Phone 8
4.3in AMOLED screen, 800 x 480 resolution, 217 pixels per inch
Dual-core 1.5GHz processor with 1GB RAM
8GB storage, plus microSD card slot
8-megapixel camera with 1080p HD video recording
Price as reviewed: £380 SIM-free
Nokia Lumia 820: Introduction
Sitting below the flagship Lumia 920, the Lumia 820 is Nokia's answer to the HTC 8S - a mid-range Windows Phone 8 device with a 4.3in screen, robust and durable build, and Nokia's range of apps, including Drive, Maps, City Lens and Music.
The Lumia 820 is separated from its bigger brother by having a slightly smaller screen (4.3in vs 4.5), with a lower resolution (800 x 480 vs 1280 x 768), and the smaller phone misses out on the 920's PureView camera with its 'floating lens' technology.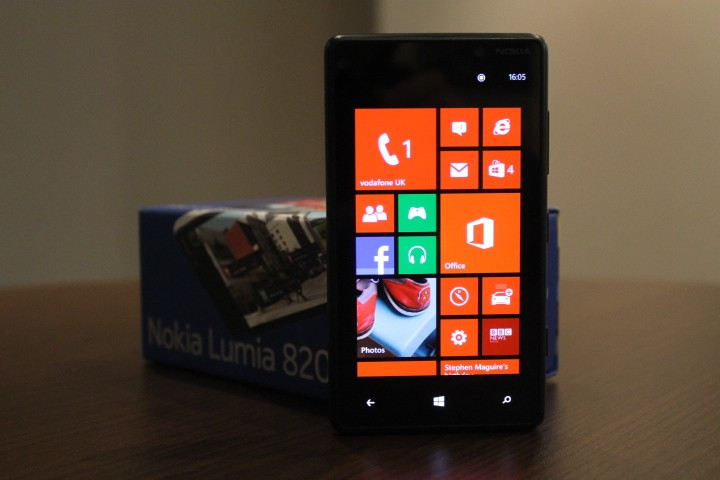 Inside, the Lumia 820 has the same dual-core 1.5GHz processor and 1GB of RAM as the Lumia 920, along with the usual selection of Wi-Fi, Bluetooth, NFC and wireless charging.
The Lumia 820 costs £380 SIM-free, whereas the Lumia 920 is priced at £520.
Nokia Lumia 820: Design and Feel
After reviewing the Lumia 920 and HTC 8S with their incredibly bright and in-your-face designs, I chose black for my Lumia 820 review unit, to see if the colourful Windows Phone 8 interface works with a more subtle phone.
Thankfully it does, but despite being all black, my Lumia 820 review unit sports a striking and impressive design, with the satin black finish giving it an almost rubberised feel, set against the glossy black buttons and rear camera surround.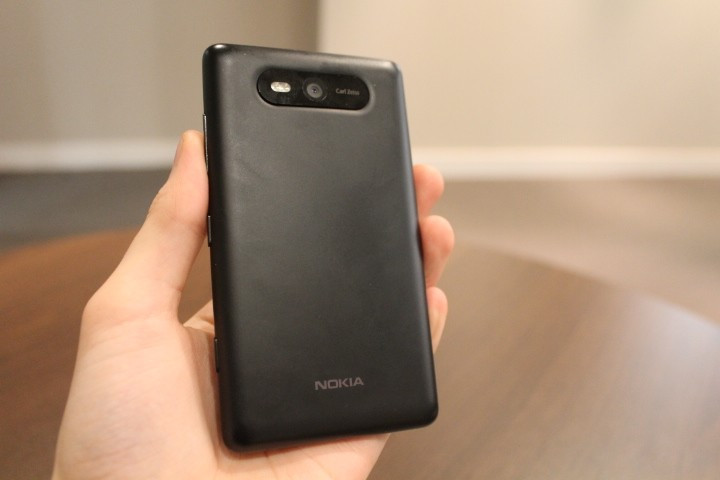 The first thing you notice when picking up the Lumia 820 - as with the 920 - is its weight and bulk. At 160g the phone is noticeably heavier than the 112g iPhone 5 and 133g Samsung Galaxy S3, and just 15g shy of the larger Lumia.
Measuring 9.9mm wide, the Lumia 820 is also quite a thick phone, compared to the 7.6mm iPhone and 8.6mm Galaxy S3, although it's surprising how quickly you get used to slightly heavier, chunkier phones, and the added bulk helps you to use the phone comfortably with one hand.
Above the 4.3in screen there is a VGA quality front-facing camera for video calls, and below are three capacitive touch buttons for Back, Home and Search, as is the standard for all Windows Phone 8 devices.
The left side is blank, while the right is home to a volume rocker, screen lock button, and two-stage shutter button for using the camera. On top there is a 3.5mm headphone jack, and the bottom edge has a microUSB port for charging, along with a speaker and mic.
On the back, there is an 8-megapixel camera with LED flash. For me, the camera of the Lumia 820 is positioned better than it is on the Lumia 920, where it is lower and more likely to be obscured by your fingers while taking a photo.
The entire back cover and sides can be removed to gain access to the battery, SIM, and microSD card slot, although it takes significant force to persuade the case to come off.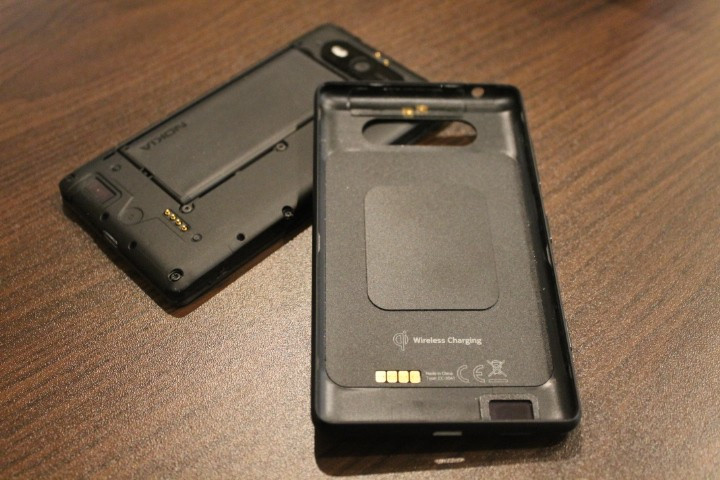 I really struggled to remove it and felt like I was going to damage the phone, so regular access to the phone's SIM or SD card is not really possible. Once open, you have to remove the battery to get at the Micro SIM and Micro SD slots, and the latter can take cards up to 64GB, making up for the limited 8GB of internal storage.
Once in place though, the Lumia 820 feels incredibly well made and as if it would survive a drop or two - at least on its back and sides.
That removable cover houses the phone's wireless charging pad - although such a charger is a £55 extra - and can be swapped for covers of various colours, each priced at around £17.
The phone itself is available in black, grey, red, yellow, white, blue or violet, and Windows Phone 8 can be made one of 20 different colours.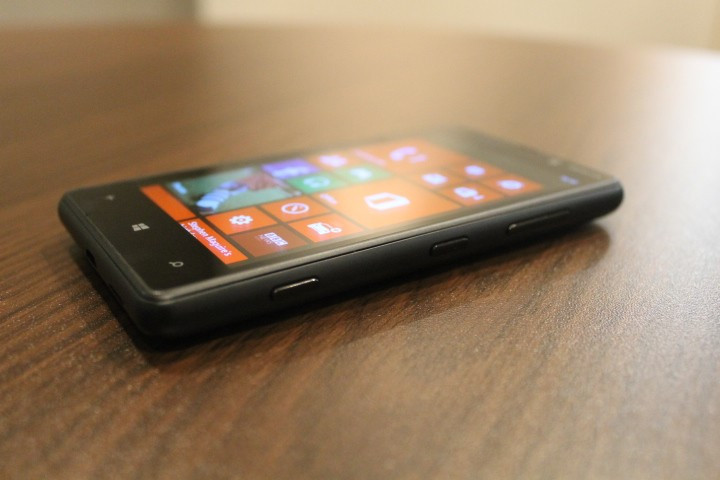 Nokia Lumia 820: Operating System and Performance
The Nokia Lumia 820 is one of five smartphones on the market with the new Windows Phone 8 operating system, joining the Lumia 920, HTC 8S and 8X, and the Samsung Ativ S.
I've already reviewed three of those phones, been hands-on with the fourth, and written an in-depth review of the Microsoft operating system, so I'll try not to repeat too much again here.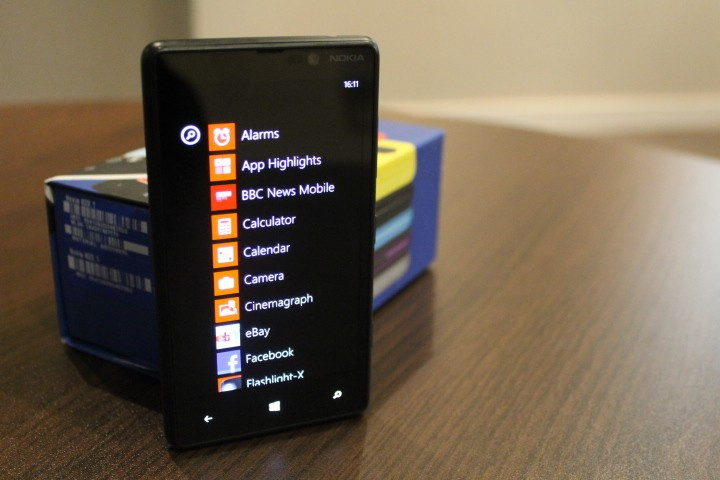 Where HTC has taken the safe route of delivering Windows Phone 8 almost exactly as Microsoft intended it to be, adding just a couple of fairly forgettable apps, Nokia has included a suite of useful programmes.
There is Nokia City Lens, which uses augmented reality to place the location of nearby shops, businesses and places of interest over the top of what the camera can see. Point the phone at a row of shops and the names appear, which can be tapped to bring up more information and contact details.
Nokia Drive+ Beta is essentially a satellite navigation programme, and although still in the beta phase and not yet a complete app, it serves as a very usable replacement to a stand-alone TomTom or Garmin device.
An added benefit of Drive+ Beta over some other sat nav apps is that you can download maps to use them offline, so the app can be used abroad without incurring large data charges, and in areas with poor 3G coverage.
You have to download maps before you can use the app, and England weighs in at around 200MB (plus another 4MB for the voice commands), so it isn't going to take up too much storage space.
There's also Nokia Maps, which is basically the same as the company's recently launched Here maps app for the web and iOS. Maps has 3D buildings, indoor maps to help find your way around shopping centres, and directions for walking, public transport and driving, although they are not as complete as Drive+.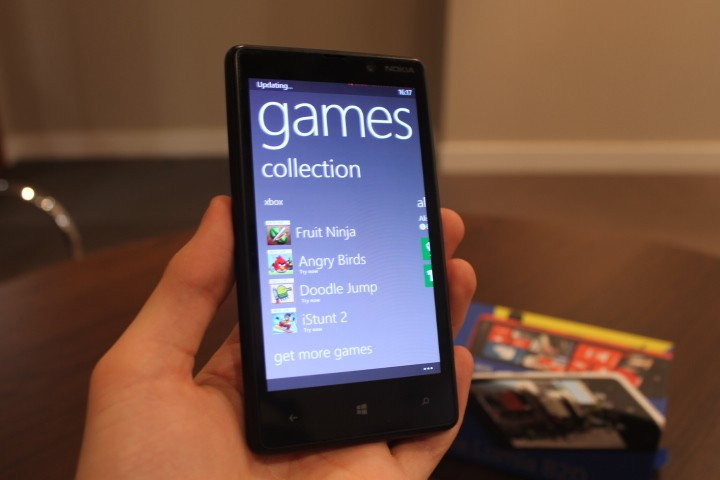 When reviewing the Lumia 920 I encountered problems with downloading maps, but I'm pleased to say that Nokia has fixed these, as I had no such problems while setting up the 820.
Finally, there's Nokia Music, with more than 15 million tracks for sale, priced between 59p and 99p, and access to Mix Radio, which serves up dozens of music streams catalogued by genre, age and the current charts; streams can be played over W-Fi, or downloaded to play offline.
The Nokia Lumia 820's dual-core 1.5GHz processor is the same as used by the more expensive Lumia 920, so performance is very good, with apps multitasking efficiently and HD video causing no problems at all; the operating system flies along nicely, with no stuttering or slowing down - at last once apps are up and running.
Some issues with Windows Phone 8 remain, however, and the 'Resuming...' screen appears far too often when opening applications; third party apps are particularly bad, with Facebook sometimes taking a full 20 seconds to open.
The lack of Windows Phone 8 apps is still a problem, and although the marketplace now has more than 120,000 apps, must-haves like Facebook and Twitter are slower and generally much worse than their iOS and Android counterparts.
While these problems have appeared with all four Windows Phone 8 devices to date, a common advantage of the operating system has been battery life, and the Lumia 820 is no exception.
Its 1,650mAh battery is smaller than the 2,000mAh unit found in the Lumia 920, but the smaller, lower resolution screen helps to cancel that out, and I found the battery to last for almost two full days of average use.
This includes two email accounts, push notifications from Facebook, Wi-Fi wherever possible, and various other, less intensive tasks.
Of course, battery life can vary massively from one user to the next, but with the 820 I felt that I could often get away with not charging the phone every night - at least during the week, when I use it less.
There's the usual connectivity features like Wi-Fi 802.11n, Bluetooth 3.1 with A2DP for streaming music to wireless speakers and headphones, NFC to make contactless payments, and a wireless charging pad inside the back cover, along with GPS and a digital compass for mapping.
The Lumia 820 has 4G, but due to it only being available through EE, I was not able to test it.
Nokia Lumia 820: Display
As I said above, the Lumia 820 has a 4.3in AMOLED screen with a resolution of 800 x 480 and a pixel density of 217 per inch, which is 0.2in smaller than the Lumia 920 and is significantly down on the 920's resolution of 1280 x 768.
What these numbers mean in the real world is that you can just about spot individual pixels on the 820's screen, and text doesn't quite have the same smoothness as it does on the Lumia 920 and HTC 8X, but beyond that it's a good display with wide viewing angles and accurate colour reproduction, (our camera makes the UI look orange, but it's actually bright red.)
The phone's thin bezel and black colour help the screen to feel bigger, as if it occupies the entire front of the phone; viewed straight ahead, it's hard to tell exactly where the display ends and bezel begins, such is the impressive darkness of black being produced.
An impressive trick shared by both Lumias is their ability to work when you're wearing gloves. Most smartphones - iPhone and Galaxy S3 included - fail to register touches that aren't directly from skin, but the Lumias have no such trouble.
Nokia has not used Gorilla Glass on the 820, but the screen still feels tough and as if it would survive sharing a pocket with loose change. The display produced a strange clicking sound when I pressed firmly - more firmly than is ever necessary, I admit, but the sound suggests there is some flex in the display and it's touching something underneath.
Nokia Lumia 820: Camera
The Lumia 820 has an 8-megapixel camera with autofocus, a Carl Zeiss lens, LED flash and 1080p HD video recording. That pixel count is slightly down on the 8.7-megapixel sensor in the Lumia 920, but the biggest difference between the two phones is PureView.
A brand used by Nokia to describe its best cameras, PureView on the Lumia 920 refers to the camera's 'floating lens' technology, which helps to vastly improve photos taken in low light; the 820 misses out on this, but the camera is still perfectly adequate in daylight.
Opened by tapping the camera icon app, or with a long press of the shutter button (also possible when the phone is locked), the camera app is exactly the same as on all other Windows Phone 8 devices.
Simply tap the screen to take a photo, or press the shutter button halfway to focus, then fully to take the shot. The app lets you adjust the ISO, exposure, white balance and aspect ratio, as well as turn the flash on or off, and pick from five scenes, like Sports and Night Portrait.
As with all other WP8 phones, the Lumia 820 gets access to Lenses, which are small applications built to work inside the camera app; these include Bing Vision, to search the web with a barcode; Panorama, to take a wide panoramic shot by stitching several photos together; and Smart Shoot, which helps you take a group photo at the right time.
There's also a Lenses store, which has around 30 lenses to buy or download for free to add new features to the camera app.
The catalogue of lenses available has grown noticeably with each Windows Phone handset I've reviewed, so there is clearly developer interest there, and hopefully Microsoft will extend the store to include different sections, as currently it is just a long list in no obvious order.
As for photos taken with the Lumia 820, they are just what you'd expect from a mid-range smartphone. Colours are good enough, if a little washed out, and the camera struggled indoors, resulting in a yellow tinge to the photo, although adjusting the white balance can help. The Lumia 820's dual flash did a good job in the third sample photo (below), as smartphones usually struggle to spread the light from their flash across a subject evenly.
It's not really a replacement for any decent compact camera, but for taking photos quickly while out and about, the Lumia 820 is perfectly acceptable.
Nokia Lumia 820: Verdict
At £140 cheaper than the Lumia 920, I wouldn't be helping anyone by suggesting they simply ignore this and buy the bigger, better, more expensive model - at £70 that'd be my answer, but as things stand, the Lumia 820 has every right to be recommended.
If you're looking at a mid-range Windows Phone 8 device, then you have this or the HTC 8S, and while I prefer the design of the HTC, the excellent Nokia apps of the Lumia 820 should not be ignored.
It's not the thinnest or lightest phone on sale, but the 820 certainly feels like one of the toughest and best-made. I like the satin finish to the rear cover, and I like Windows Phone 8 more every time I use it.
A higher resolution screen would help to improve the phone, but otherwise performance is good, Nokia's included apps are great and all that remains is for Microsoft to improve WP8 (it badly needs a notifications centre) and for developers to keep the app store well-stocked.
Scores:
Screen: 7/10
Design: 8/10
Camera: 8/10
Operating System: 7/10
Build Quality: 9/10
Overall: 8/10
The Good:
Very high build quality
Good performance - as powerful as the Lumia 920
Available in a wide range of colours
The Bad:
Average screen resolution
Windows Phone 8 still needs improving, and more apps
Just 8GB of internal storage
Camera samples: