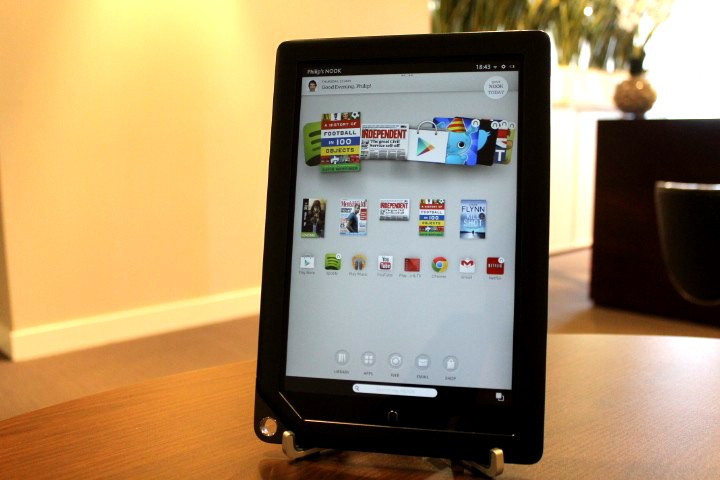 Key Features:
9in display with 1920 x 1280 resolution, 256 pixels per inch
Dual-core, 1.5GHz processor with 1GB RAM
16GB/32GB storage plus microSD card slot
Android 4.0 with custom interface and user accounts
Wi-Fi
Price as Reviewed: £199 (32GB) while stocks last
Introduction:
The Nook HD+ by US bookseller Barnes & Noble has a 9in full HD display, a lightweight plastic body, and runs a highly modified version of Android.
Both this and the smaller Nook HD recently benefitted from the addition of Google's Play store, making up for B&N's poorly-stocked Nook Shop, and a price cut - "while stocks last," we're told - taking this 9in model down to £179 for the 16GB version.
Look and Feel
Looking like a sleek tablet trapped in a cheap plastic case, the Nook HD+ doesn't spend long trying to hide its low price. It may not have the aluminium case of an iPad or the premium build quality of the Microsoft Surface, but the Nook HD+ is a light and well-proportioned tablet with an excellent screen.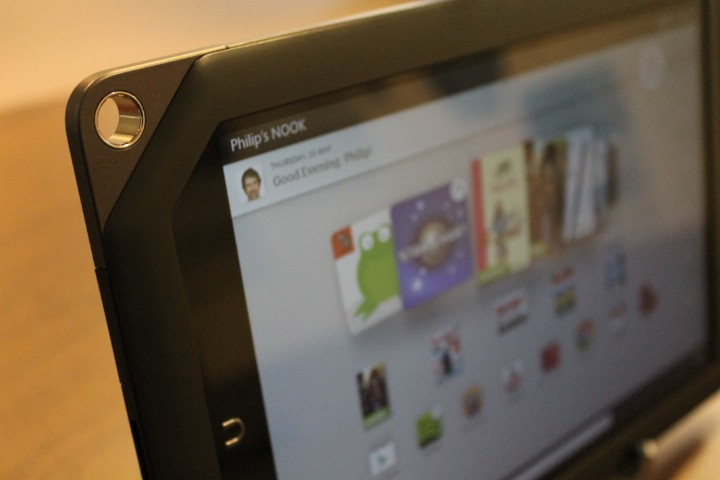 To make the HD+ stand out, Barnes & Noble has bored a hole through the lower-left corner of the tablet (when held in portrait) and filled it with a hollow chrome ring. At first a bizarre design quirk, the hole acts as a convenient place to rest your left thumb when held in landscape.
It's clear B&N has focused on comfort and portability with the Nook HD+; from that hole for your thumb and the rubberised back, to the low weight (515g vs 625g for the iPad), the Nook can be comfortably held in one hand.
Hardware and Connectivity
The glass-covered 9in screen is surrounded by a plastic bezel leading to a metal strip running around the outer edge, housing a volume rocker, headphone jack, power button, microSD card slot and charging port.
Around the back there is a single speaker, and while it's acceptable for short YouTube clips I'd suggest you use headphones for everything else.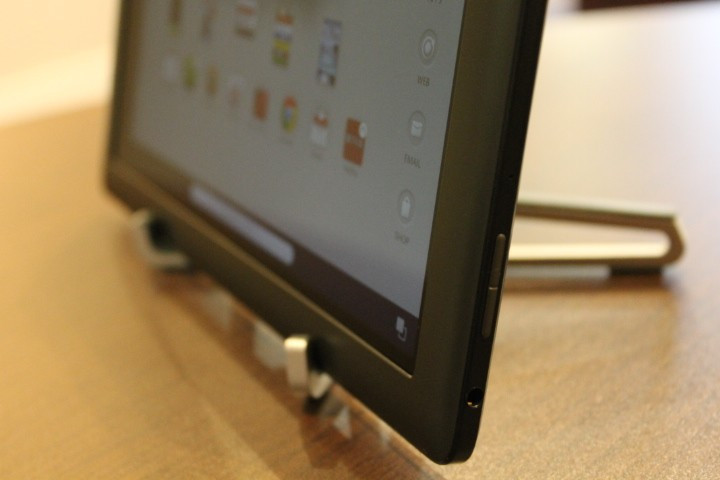 B&N has avoided giving the Nook a rear camera, and although this will disappoint some, I've never understood the need for a camera on a tablet when the phone in your pocket is usually better.
A front camera for Skype calls would have been a welcome addition, but for under £200 it's difficult to complain.
Finally, there is a home button shaped like the Nook logo below the screen; it's small and feels quite squidgy, lacking the tactile click of an iPad's home button, but it does the job.
Screen
Measuring 9in and having a full HD resolution of 1920 x 1280 with a pixel density of 256 pixels per inch (ppi), the Nook's most impressive feature is its screen.
All too often I've seen budget tablets let down by poor screens - the Archos 101 XS comes to mind - but thankfully B&N has held back in other areas to go all-in on the display.
With a pixel density just shy of the Retina-screened iPad, the Nook's display is seriously sharp, with text easy to read and with a crispness some more expensive tablets can't match.
Brightness is also impressive, combatting most reflections and sometimes verging on too bright, even in a well-lit office; I found it to be most comfortable at around 60-70% brightness.
Colours appear accurate and are well saturated without becoming cartoonish, viewing angles are very good and the strong backlight illuminates the display evenly with no obvious bleeding of light around the edges.
Software and Performance
Instead of installing stock Android, Barnes & Noble has made radical changes to the user interface, creating something vastly different to all other Android tablets.
Like Android, there are several home screens for your apps and widgets, and there's a place to show a list of every app installed, but beyond that the Nook UI is very different.
The central home screen is topped by a status bar with time, battery and Wi-Fi info, under which there's your profile picture - and a friendly/annoying 'Good afternoon, Alistair!' message. This message gives a clue to the Nook's best software feature; multiple user accounts.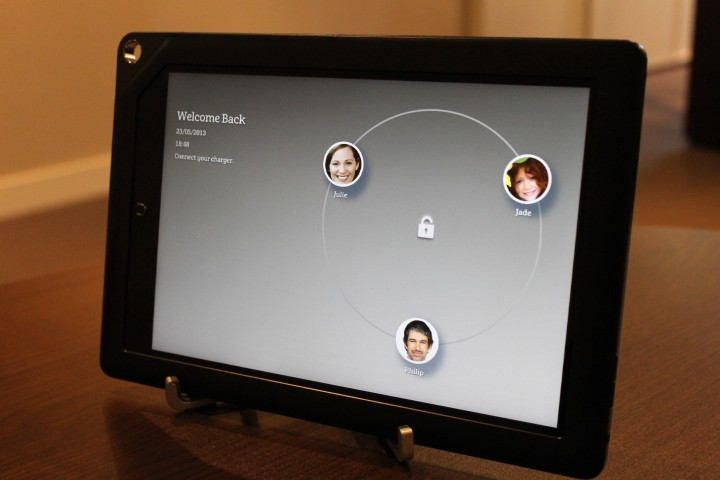 Each user has a secure account to store apps and multimedia, but sadly the interface stutters and stumbles its way through the switch from one account to another, with the previous user's home screen content appearing in full before your own account is scrambled into place.
The home screen can store apps, books and magazines, and features a carousel of your most recently viewed content, similar to the Kindle Fire. At the foot of the screen there are shortcuts to your full library, app collection, web browser, email and B&N's own digital store which is fine for literature but has a poor app selection.
Thankfully, B&N recently added Google Play to all Nook tablets, so the HD+ can run most of your Android apps and media content.
It's an attractive and intuitive layout, but much of the interface feels clunky and like it's going to fall over at any moment; there's a four second delay in the display switching from portrait to landscape when you rotate the Nook, and doing this a couple of times once caused the entire home screen to crash and relaunch.
Opening an ebook causes the screen to flash black for a moment and although text is beautiful the page transitions aren't as smooth as they could be.
To its credit, the Nook manages HD video both stored locally and streamed from YouTube without a problem, but multitasking between apps isn't as smooth as regular Android tablets.
Barnes & Noble claims 10 hours of battery life for reading and nine for watching video, and in testing I found these figures to be accurate. The HD+ easily lasted a full weekend of web browsing, social networking, reading and watching video. My only complaint is the lack of an auto brightness setting, so you'll have to adjust that manually to get the most out of the battery.
Value
Previously priced at £229 the Nook HD+ was a fairly difficult sell given the iPad mini starts at £269, but now at £179 the Nook starts to make sense as a budget tablet for those who want more screen space than the Nexus 7.
You should also consider the £239 Kindle Fire HD, which has a similar screen resolution to the Nook, but the Kindle's operating system, while based on Android, is also heavily customised and doesn't have Google Play so the app catalogue is limited.
Verdict
At its regular price of £229 and without Google Play, the Nook HD+ had no reason to appear on any tablet buyer's shortlist. But with £50 off and access to an enormous catalogue of apps and media content, Barnes & Noble's tablet should now at least be considered.
It's not the best-looking tablet, but it's far from offensive and I applaud B&N for trying to make it stand out. The hardware is light but well-made, I was pleased to see the inclusion of a microSD card slot for increased storage, and the screen is excellent.
But the whole package is let down by its software. Android works perfectly well without the changes made by Barnes & Noble, and although multiple user accounts are a great idea, they can't make up for the slowness and instability of everything else.
Although not the best Android tablet, the Nook HD+ is worth considering for its low price and great screen, but only if Barnes & Noble issues an update to fix those software problems.
Scores:

Screen: 9/10
Design: 7/10
Operating System: 6/10
Build Quality: 8/10
Overall: 7/10
The Good:
Great screen
Low price
Expandable storage
The Bad:
Slow, buggy user interface
Bland design
Feels cheap