Key Features:
10.1in display with 1280 x 800 resolution
Android 4.0 (Ice Cream Sandwich) - Jelly Bean update promised
1.5GHz dual-core processor ARM processor, 1GB RAM
Coverboard detachable keyboard/screen cover
Archos 101 XS: Introduction
Bridging the gap between tablet and laptop is something computer manufacturers are keen to achieve, and they are going about it in several different ways.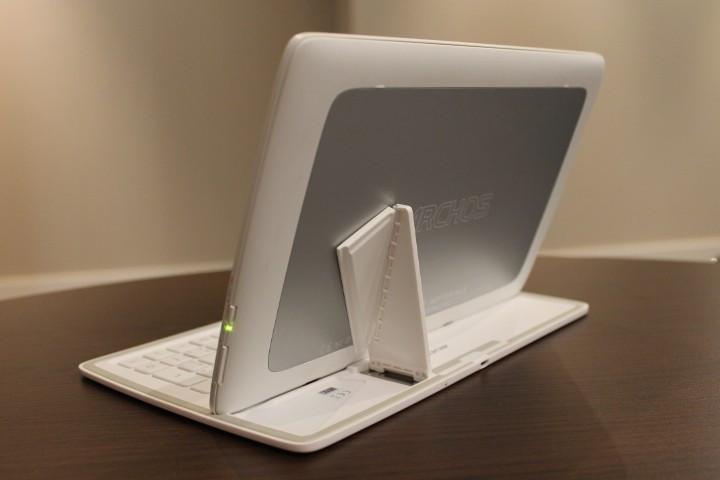 From the Asus Transformer and Samsung Ativ Smart PC, with their hinged keyboard docks, to the Microsoft Surface and its clever screen protectors that double as keyboards, there is now a decent range of products out there, and French manufacturer Archos is now having a go with the 101 XS and its Coverboard.
Acting as a screen protector, keyboard and dock, the Coverboard fits in place with a series of strong magnets and looks to be a sensible compromise between the chunky tablet/laptop hybrids and having to make do with typing on the screen.
Beneath the cover, the 101 XS is a 10.1in tablet running Android 4.0 (Ice Cream Sandwich), with a dual-core 1.5GHz ARM processor, 1GB of RAM and 16GB of internal storage.
Archos 101 XS: Design and Feel
At £100 cheaper than the equivalent iPad or Samsung Galaxy Note 10.1, we expected the Archos 101 XS to fall a little short in terms of build quality. Sadly, the tablet falls way short of even these below-par expectations.
It's a mashup of cheap-feeling plastics that mark easily and metal that attracts scratches worse than anything else we've seen.
The screen, while not actually too bad (see more below), is covered by plastic instead of glass and this causes the display to flicker and appear temporarily broken under anything but the slightest pressure - remember pressing the screen of your calculator at school and seeing the 'ink' go crazy? It's a lot like that, as you can see in this picture: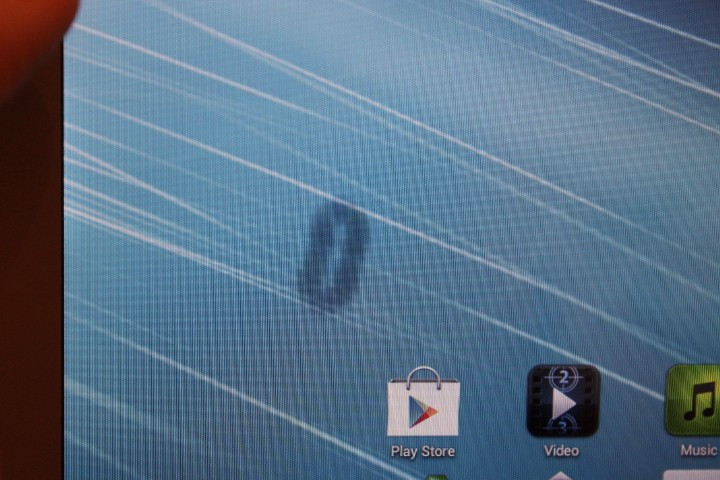 More than a gentle tap of the screen causes this and we found that even applying pressure to the metal back of the tablet causes the display to flicker, making us wonder how easily permanent damage could be inflicted.
Moving away from the questionable build quality, the 101 XS is thin, light and we've no problems with the way it looks - before it attracts dirt and scratches, anyway.
On the front, there is a 1.3-megapixel camera for video calls, and although it can take photos and shoot video, you won't be wanting to save anything it produces.
Archos knows as well as we do that taking photos with a tablet make you look ridiculous, so there is no rear camera - and that's fine by us.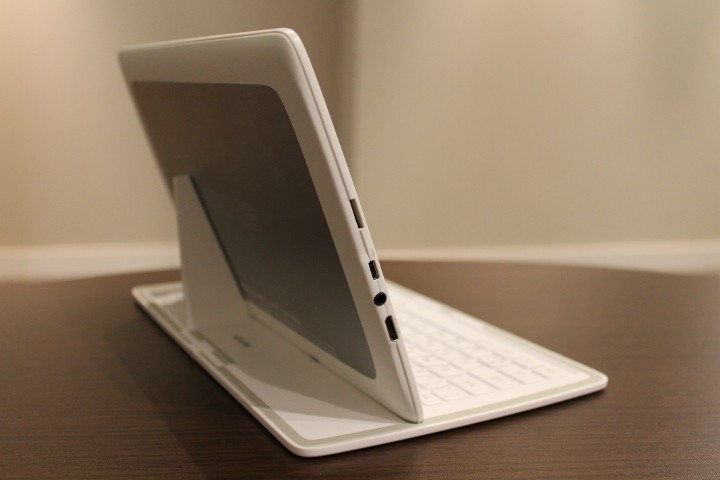 To the right of the screen (when docked in the Coverboard) there is a speaker, and while it won't be powering your next house party, placing the speaker here makes more sense than hiding around the back where it can be blocked with your hand - another common sense mark for Archos.
On the left edge there is a mini HDMI out port to send video saved on the tablet to your HD television, a 3.5mm headphone jack, microUSB for charging and syncing, and a micro SD card slot to increase the 16GB of internal storage.
The right edge is home to a power/screen lock button and a volume rocker, and finally there is a dock connector on the bottom for use with the Coverboard.
Speaking of which, the Coverboard is very thin, attaches to the tablet with strong magnets and has an integrated stand to hold the tablet in place.
There is a full Qwerty keyboard and a whole host of Android-specific function keys, but the lack of trackpad or even a ThinkPad style nub is a shame - although we understand the space constraints.
We wouldn't go as far as to say the Coverboard is badly built, but it certainly feels flimsy, with a large amount of flex if you apply pressure to opposite corners.
The keys are quite small - smaller than the iPad's onscreen keyboard, for example - and although there isn't much travel, feedback is decent enough and typing at speed takes just a few hours of practice.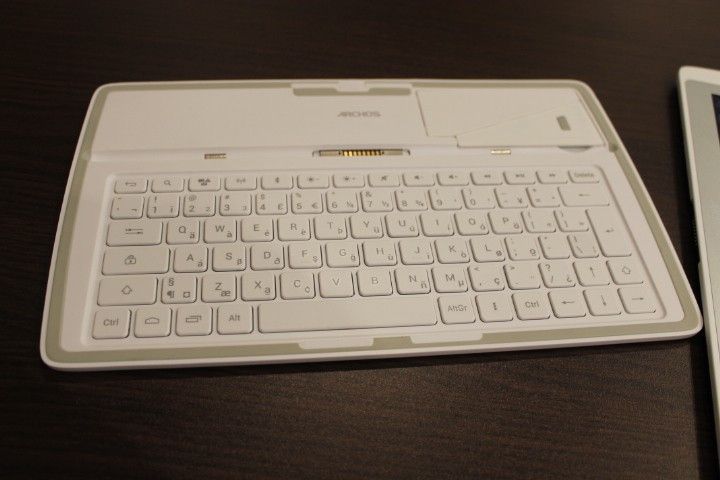 To stop the Coverboard damaging the screen, Archos has applied a rubber insert all the way around the keyboard; this in itself is fine, but the grey/green/brown colour is something you would expect from a 1980's computer and goes some way to remind you of the Archos's budget intentions.
The Coverboard's stand and magnets hold the tablet firmly in place, but while the angle can be adjusted slightly, tilting the screen upwards for a more comfortable view results in the connection between tablet and keyboard being lost.
Instead, the screen must be kept fairly upright, which isn't ideal and means you are looking down on it too steeply when working at a desk, and this problem gets worse when it's placed on your lap.
In addition, we found the screen lock/power button to be too close to the volume rocker, and pressing either without turning the device and looking, is more difficult that it should be.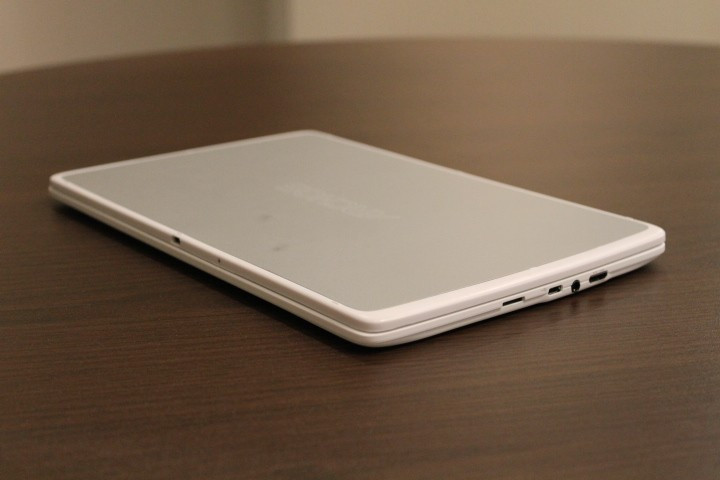 Where convertible or hybrid tablets such as the Asus Transformer Pad Infinity gain extra battery life from their detachable keyboards, the Coverboard adds nothing more than a micro USB port for charging.
We can understand Archos's desire to make a tablet with detachable keyboard as thin and portable as possible, but by doing so it gains relatively little, and we think opting for slightly thicker dock with its own internal battery and a couple of ports would have been a better option here.
Archos 101 XS: Display
The 10.1in touch screen has a resolution of 1280 x 800, some way behind the Retina-screened iPad, but on par with other rivals such as the Samsung Galaxy Note 10.1.
We mentioned the problems with covering the screen in plastic instead of glass above, so we won't dwell too long on the alarming results of pressing a little too hard.
Using plastic does present another issue, however, and that is the lack of an oleophobic coating that helps to repel grease from your fingers.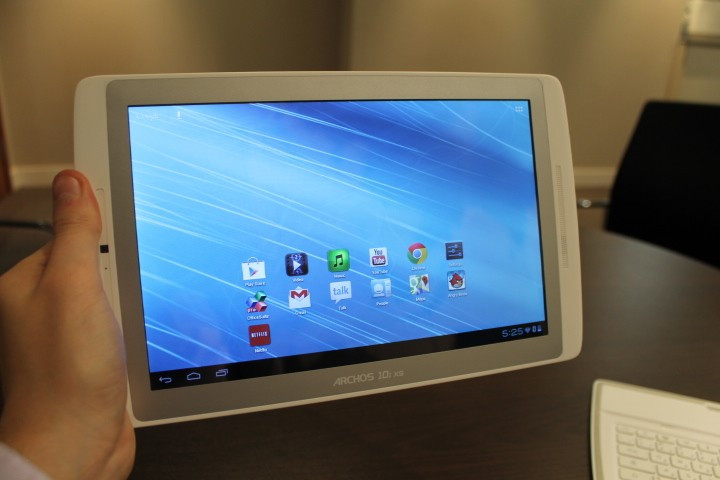 Beyond the actual construction, the display isn't too bad. It's sharp enough, blacks are deep and colour saturation is good, although there is a bias towards the cooler end of the spectrum, as is the case on some Samsungs.
While not retina-burning bright, the screen is bright enough for indoor use; we also suspect the plastic finish is less prone to glare than some glass alternatives, but use in bright sunlight is, as with all tablets, almost impossible.
Archos 101 XS: Operating System and Performance
The 101 XS comes with Android 4.0 (Ice Cream Sandwich), but Archos says that an update to Android 4.1 (Jelly Bean) is coming soon.
Instead of following the likes of Samsung with its TouchWhiz interface, Archos has opted to leave Android exactly as Google intended.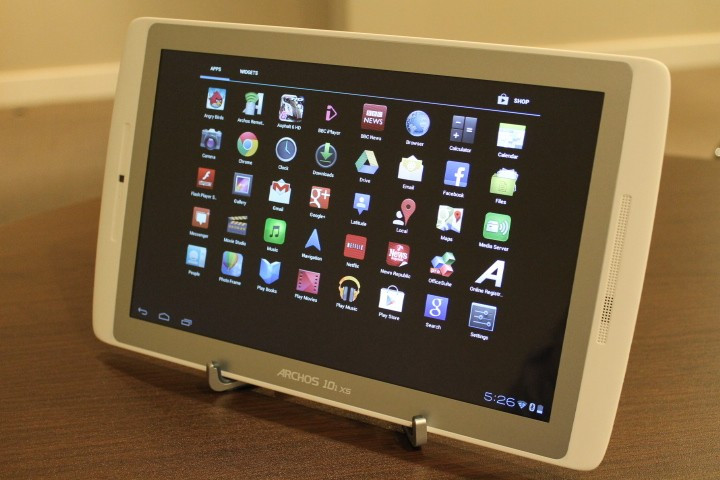 Connecting and disconnecting the tablet and Coverboard is simple enough, but doing so once caused the tablet to crash in a bizarre state with the display being halfway between landscape and portrait, and not responding. A long press of the power button to kill it, then a press to boot up again fixed the issue.
Other times, we found that if the tablet is not connected or disconnected cleanly from its keyboard, it can become confused and refuses to recognise that it is connected to the Coverboard - again, a quick reboot was required.
As much as we don't want to focus on the negatives, problems like these simply can't be ignored and distract from the few positives (including the low price) that this tablet has.
On the upside, the 101 XS multitasks as well as any other Android tablet, with it effortlessly flicking between games, email, social networking and browsing, so for out-and-out performance we really can't pick fault with the tablet and its 1.5GHz dual-core processor.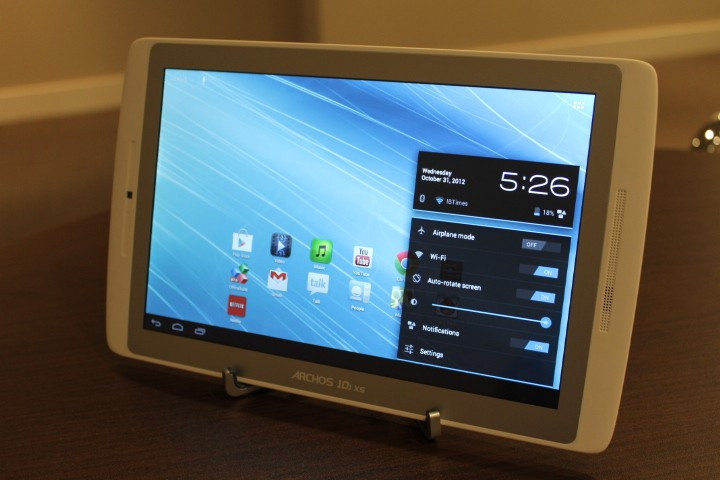 HD videos from YouTube play just fine, and although the lower-left corner of the device gets warm, it's no different from any other tablet or smartphone when user under load.
Likewise, battery life is about on par with other tablets, and at least two full days of average use is easily achievable.
Archos 101 XS: Verdict
Writing negatively about a product is never fun and isn't something we enjoy, or do very often, but sometimes it's simply impossible to recommend something for readers to buy.
Sadly, the Archos 101 XS is so close to falling into that category, the ground is crumbling away under its feet.
For £300 we had never expected the XS 101 to touch the iPad or Galaxy Note 10.1, but in trying so desperately hard to be different, Archos has made a device that trips up over its own feet far too often.
If the company had scrapped the Coverboard and dropped the price to £250 then it would be a different story (though build quality of the screen would still be a big issue).
Instead, we have a device that tries to offer more, but in doing so ends up offering less in a frustrating way that stops the device from functioning as its manufacturer intended.
The bottom line is this; the Archos 101 XS is a 10in tablet that is soon to get Android Jelly Bean, multitasks well, and has a removeable physical keyboard; but it's also a product that has a poor build quality and is let down by the keyboard, the very feature that tries to be its unique selling point.
Although smaller, the Google Nexus 7 and iPad mini at £159 and £269 respectively offer significantly better tablets, with change left over to buy a decent keyboard cover.
Scores:
The Good:
Cheaper than most 10in tablets
The Bad:
Keyboard adds little value