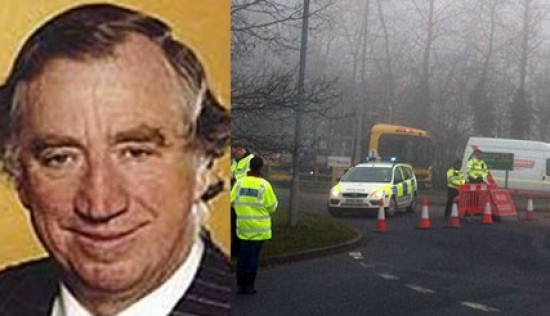 Conservative peer and Northern Ireland's richest man Lord Ballyedmond has been named as one of the four people killed in the helicopter crash in Norfolk.
The four victims, all men, were killed after the helicopter - an Augusta Westland 8W139 - came down in woodland in Gillingham, near Beccles in Norfolk.
It is not yet known what caused the helicopter to crash, but visibility was said to be poor due to the foggy weather conditions.
Emergency Services and the Air Accidents Investigation have now launched an inquiry into the crash.
A police spokesperson said that the flight was bound for Northern Ireland.
Norfolk Police chief supt Bob Scully said: "On behalf of the force I would like to pass on my condolences to the family, friends and colleagues of those who have sadly lost their lives in this tragic incident.
"Limited investigations have taken place so far due to the dark, cold and foggy conditions.
"However, with daylight and hopefully clearer conditions a more detailed examination of the crash site can get under way."
Edward Haughey was made a life peer as Lord Ballyedmond of Mourne in 2004. The 70-year-old made an estimated £650m through his veterinary pharmaceutical business, Norbrook Laboratories, which he formed in the 1960s.
He also owned a number of other businesses, including air travel business Haughey Air.
He was appointed as the first chairman of the newly established Irish Aviation Authority in 1993 and was nominated to the Irish senate, the Seanad, in 1994 by Irish politician Albert Reynolds.
Tributes have been paid to the politician and entrepreneur. Ulster Unionist peer Lord Reg Empey praised him as one of the most successful businessmen in the UK.
He added: "He brought high-quality employment opportunities to this country during its darkest days.
"This tragic accident has cut short the life of a man who had still much to give. The family circle will be numbed by the tragedy."
Ulster Unionist Stormont assembly member Danny Kennedy added: "Lord Ballyedmond was a determined businessman who brought much-needed employment to my own constituency of Newry and Armagh. He built a world-class business from scratch and at the same time managed to base it locally."