The Rowan-Salisbury Board of Education in North Carolina, US, is rethinking a policy allowing high school students to carry pepper spray in the upcoming school year, after it encountered public backlash. Board member Chuck Hughes also backtracked on his original comments, when he suggested that the policy, which was adopted on Monday, 9 May, could be useful to students encountering transgender classmates in the toilet.
Hughes told BuzzFeed News that he will vote against the policy in the next session, scheduled for 23 May, after coming to the realization that the "cons far outweighed the pros". The school board member said that fellow board members he had spoken to will also reconsider the policy.
During the 9 May (Monday) session, Hughes lent his support for the policy citing concerns over House Bill 2 (HB2), a law which requires transgender people to use the toilet corresponding to the gender on their birth certificate, rather than the one they presently identify with. Hughes said having the sprays on campus would be for defensive purposes.
"Depending on how the courts rule on the bathroom issues, it may be pretty valuable tool to have on the female students if they go to the bathroom, not knowing who may come in," he said, according to the Salisbury Post.
Hughes later backtracked his comments, which he called "inappropriate," and said they were not made against the LGBT community. "I was not thinking about the LGBT issue," Hughes told BuzzFeed News. "Perverts and pedophiles taking advantage of this law in bathrooms was my major concern."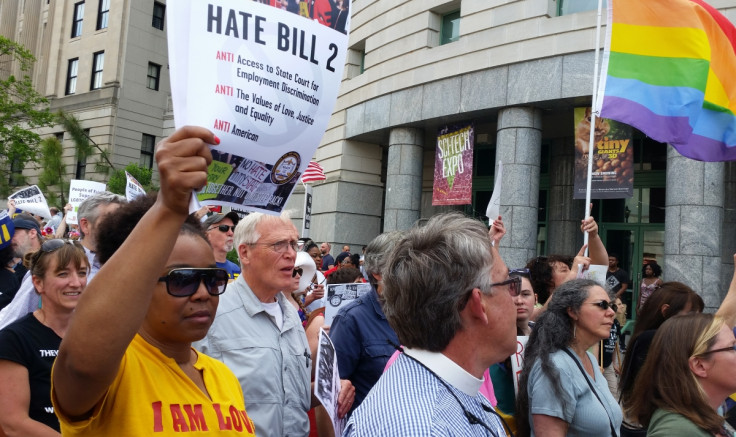 He continued, "The LGBT issue has never been a problem to my knowledge. People have different sexual identity, they go about their business. You don't even know that a transgender [person] is in your bathroom. They're not there to create havoc. But perverts are."
North Carolina and the US Department of Justice are up in arms, with both sides filing lawsuits against each other over the controversial law. The Justice Department argues that HB2 is in violation of federal civil rights laws. North Carolina Republicans, meanwhile, vow to fight the federal government over what Governor Pat McCrory says is different interpretations of the law.
Hughes maintained he was not homophobic but admitted to understanding why his statements were "misinterpreted".
"We're a strong board and we're going to re-evaluate this and maybe change it," he said. "I personally will vote to put pepper spray back into the prohibited items list, along with razor blades, guns, knives, and other items that are not okay to take on school campuses."
According to The News & Observer, the new policy will not affect students until it has been published in the new student handbook.