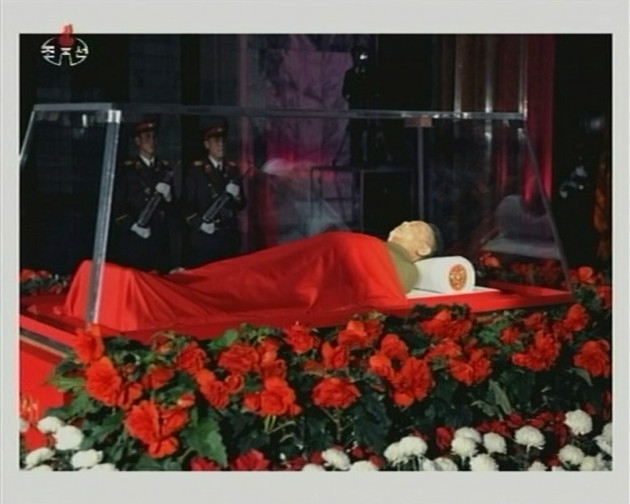 The "Dear Leader" lies with his head on a pillow and draped in a red blanket. His casket is surrounded by banks of flowers.
The body of longtime North Korea ruler Kim Jong-il is on displayed following his death Saturday from "physical and mental strain."
Asserting authority even in death, the dictator's body was kept under the watchful eye of two armed sentries, while senior North Korean officials - including his son and heir, Kim Jong-un - filed past to pay their respects.
People around the country collapsed in hysterical displays of grief at the news of their leader's death. Kim Jong-il was hailed by the state propaganda machine as a demi-god who could control the weather with his moods.
A similar personality cult has begun to built around his son, who is being hailed by state media as "born of heaven."
But the succession of Kim Jong-un to the role of "Eternal Leader" is not likely to be a smooth one as the country teeters on the brink of economic and social collapse. There are also acute fears in the international community as to the implications a new North Korean leadership will have on the fragile peace in the region, and especially in regards to the rogue state's nuclear weapons programme.
South Korea, maintaining a tense truce nearly 60 years after the end of the Korean War, has placed its military services on emergency alert in anticipation of potential unrest north of the border.
The U.S. is also said to be "closely monitoring" the situation in North Korea.