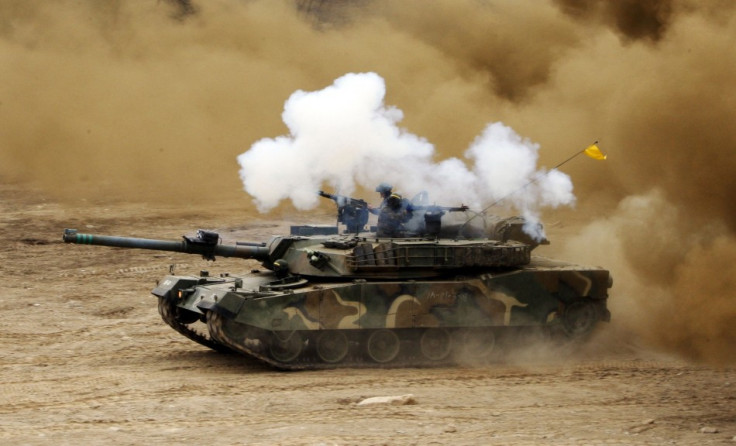 Chinese armed forces have been placed on high alert over the escalating tensions in the Korean Peninsula, US officials say.
Reports suggest that the People's Liberation Army (PLA) troops have been mobilised over fears of war breaking out in the region.
According to US officials quoted in the reports, the Chinese military has beefed up its presence especially in the border region with North Korea since mid-March, soon after Pyongyang stepped up its threats against South Korea and the US.
The Chinese navy has also conducted a live-firing naval drill in the Yellow Sea in close proximity to the Korean Peninsula.
Chinese forces in Jilin Province bordering North Korea have been mobilised and kept on "Level One" alert. Large groups of troops, along with tanks and armoured personnel carriers, have also been detected in the region near the Yalu River which divides China and North Korea.
Jets reportedly belonging to the PLA have been flying at low altitudes over recent days.
The long-standing defence treaty between Pyongyang and Beijing continues to exist and under the pact China is expected to help North Korea in case of war.
Despite the increased military activity, experts believe China would be eager to see that a fully-fledged war does not break out. If the North Korean regime falls, it will directly result in scores of refugees fleeing to China, a situation Beijing wants to avoid.
Meanwhile, the US has also moved its radar platform closer to North Korea to monitor Pyongyang's activities.
Washington has deployed a warship off the South Korean coast in a bid to protect its strategic ally Seoul from missile attacks from North Korea.
The warship, USS McCain, used for missile defence, will not participate in any military exercise, an American official confirmed to Reuters. The official said on condition of anonymity: "This is a prudent move that provides greater missile defence options should (they) become necessary."
White House Spokesperson Jay Carney said: "I would note that despite the harsh rhetoric we are hearing from Pyongyang, we are not seeing changes to the North Korean military posture, such as large-scale mobilisations and positioning of forces."