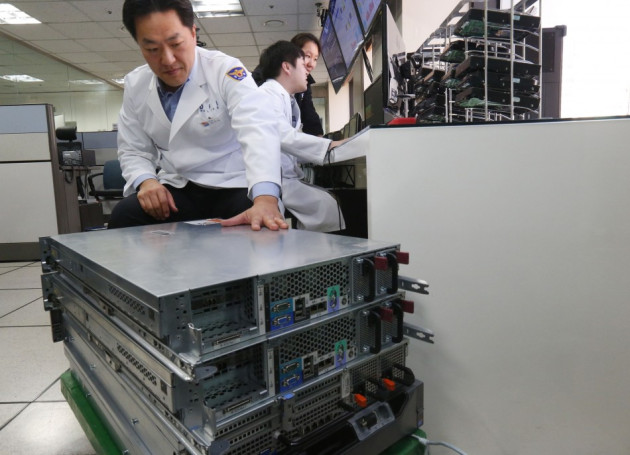 South Korea, with the help of the US, is to beef up its cyber security, days after the country's major broadcasters and banks were subjected to a major cyber attack, the country's defence ministry has announced.
The ministry has also sent a number of proposals to President Park Geun-hye in the light of a string of threats from North Korea over the last few weeks.
"We will cooperate with the US to prepare measures in cyber policy, technology and information," a senior ministry official told the Seoul-based Yonhap news agency.
An investigation into the latest attack on Seoul's banks and broadcasters is under way with reports suggesting a North Korean hand in the attack. North Korea has a special cyber warfare unit which is believed to include at least 3,000 trained hackers.
South Korea and the US are expected to jointly carry out yet another military drill in August during which, the latest cyber war security measures are to be tested.
Meanwhile, Park has ordered South Korea's military to respond strongly to "any provocations" from North Korea.
"The reason for the military's existence is to protect the country and the people from threats. If any provocations happen against our people and our country, we should respond strongly in the early stage without having any political considerations," Park said during an address to defence ministry officials.
Amid the escalating tensions in the Korean Peninsula, the US has also sent F-22 fighter jets to South Korea to join the ongoing military exercise. The latest deployment underscores Washington's commitment to defend its strong ally in the Asian continent.
F-22 Raptors have been deployed at the Osan Air Base in South Korea. "[Pyongyang] will achieve nothing by threats or provocations, which will only further isolate North Korea and undermine international efforts to ensure peace and stability in Northeast Asia," said a US military statement, according to Reuters.
Soon after the flight of two American stealth bombers over the South Korean airspace, North Korea placed its strategic rockets on standby and declared that the Korean Peninsula has entered a state of war.