North Korea: Kim Jong-un's Uncle 'Devoured by 120 Starving Dogs'
The uncle of North Korea's leader Kim Jong-un was executed by being eaten alive by 120 starving dogs along with his five closest aides, according to a report.
A detailed account of the brutal execution - known as "quan jue", or execution by dogs - was revealed by the Hong Kong newspaper Wen Wei Po, which acts as an official mouthpiece for mainland China.
Unlike previous executions of political prisoners, killed by firing squads with machine guns, Jang Song-thaek was stripped naked and thrown into a cage with his aides.
Then, 120 dogs which had been starved for three days, were "allowed to prey on them until they were completely eaten up," according to The Straits Times.
The execution lasted one hour and was monitored by the dictator and 300 senior officials.
The report cannot be independently confirmed. Some experts questioned whether China is using the Beijing-controlled newspaper Wen Wei Po to spread anti-North Korea propaganda.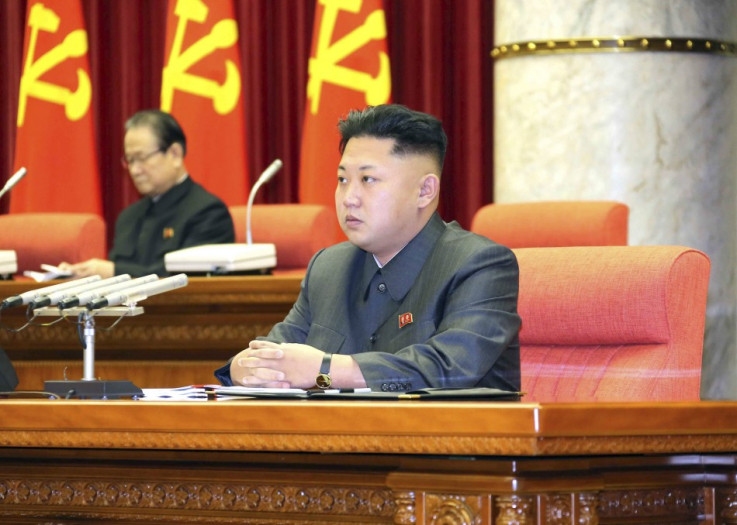 North Korean leader Kim Jong Un attends a meeting of the ruling Workers' Party politburo in Pyongyang in this undated photo - (KCNA/Reuters)
Kim referred to his uncle on New Year's address saying that North Korea got rid of "factional filth" that permeated the Workers' Party.
"Our unity strengthened hundredfold and party and revolutionary lines became more solid by purging the anti-party and anti-revolutionary faction," Kim said.
In a process reminiscent of George Orwell's 1984, Jang Song-thaek was ousted from the post of vice-chairman of the National Defence Commission and expelled from the ruling Workers' Party during a turbulent meeting of its politburo.
Jang was accused of mismanaging the economy, corruption, womanising and drug-taking.
"Jang and his followers committed criminal acts baffling the imagination and they did tremendous harm to our party and revolution," official KCNA news agency said.
"Jang pretended to uphold the party and leader but was engrossed in such factional acts as dreaming different dreams and involving himself in double-dealing behind the scene.
"Affected by the capitalist way of living, Jang committed irregularities and corruption and led a dissolute and depraved life."
"Ideologically sick and extremely idle and easy-going, he used drugs and squandered foreign currency at casinos while he was receiving medical treatment in a foreign country under the care of the party."
A Twitter account that monitors the activities of the KCNA noticed that a 2012 article about Jang had been modified.
Jang was long seen as the power behind the throne and a key policy adviser to the Supreme Leader. He was also regarded as Kim's mentor.
He solidified his position by dismantling the power structure put in place by Kim Jong-il before his death in 2011, according to reports.
In July 2012, the general removed two military officials who were appointed by the late North Korean leader. U Dong-chuk, first deputy director of the State Security Department, and army chief Ri Yong-ho were sacked by Jang seven months after Kim Jong-un became Supreme Leader.
After the execution, KCNA deleted more than 35,000 articles from its online archives.