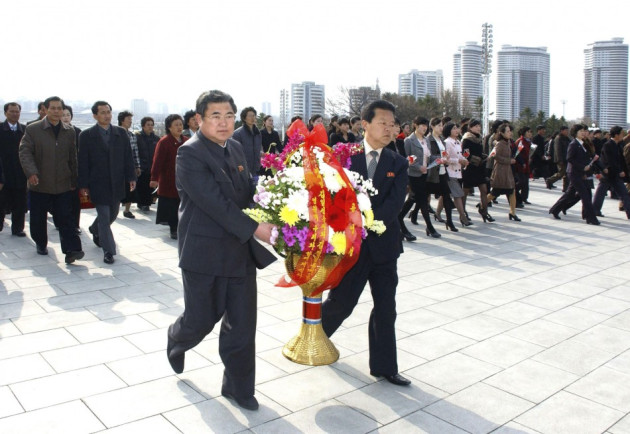 North Korean leader Kim Jong-un has reportedly marked his grandfather and former leader Kim Il-sung's 101st birth anniversary by paying floral tributes at his mausoleum rather than launching a missile.
According to the state-run Korean Central News Agency (KCNA), the young Kim, accompanied by top military officials, paid "high tributes and humblest reverence" to the late leader. However, Kim Jong-un himself has not been seen in public for the past two weeks.
The embalmed body of the late Kim lies in the Kumsusan Palace in Pyongyang where a military parade is expected to commemorate the anniversary.
The occasion has been marked amid rising tensions in the Korean Peninsula. There was widespread speculation that Pyongyang would launch a missile on the day, but so far there have been no signs of it.
South Korea remains on high alert as the country believes North Korea is capable of launching an attack anytime. North Korea is believed to have readied two medium-range missiles and several short-range missiles aimed at its adversaries.
South Korean Defence Minister Kim Kwan-jin told lawmakers during a parliamentary session: "As North Korea is believed to provoke at any time depending on its hostile rhetoric and the political and military situation on the Korean Peninsula, we are fully prepared [for any attack]."
He also took the opportunity to urge Pyongyang to heed the calls made by Washington and Seoul for talks.
Defence ministry spokesperson Kim Min-seok later told reporters: "There were speculations that the North could fire off missiles after 10 [April]. Five days have already passed, and it could be prolonged as there might be several conditions [affecting decision]."
Although he did not rule out the possibility of a missile launch, he said it is unlikely.