North Korea 'Making Progress' on Ballistic and Electromagnetic Weapons
South Korea's intelligence agency NIS says North Korea building EMP weapons using Russian technology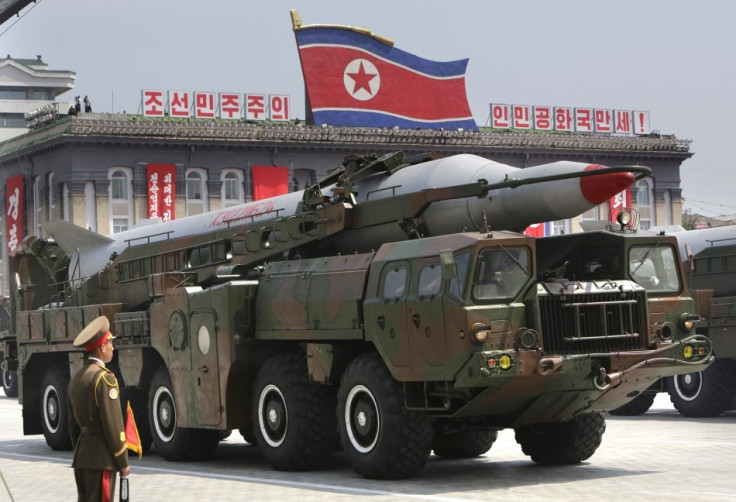 North Korea is believed to be making progress with its intercontinental ballistic missile (ICBM) programme while developing new electromagnetic pulse (EMP) weaponry with the help of Russian technology.
The US-based thinktank, 38 North, of the Johns Hopkins University's US-Korea Institute, has said the ICBM showcased during North Korea's latest military parade appears to be less fake than it was previously thought.
North Korea's attempt to flex its military muscle by parading mocked-up ICBMs was ridiculed by scores of experts following the army parade in July 2013.
"A close look at the airframes reveals that the missiles in 2013 have many more rivets than those in 2012. And while such details are not, er, riveting, they are an important indicator that these are different from those displayed a year ago. said the 38 North website.
"The presence of rivets suggests that the design has stabilised,"
In their joint analysis, Jeffery Lewis and John Schilling say that the difference in the missiles displayed during 2012 and 2013 is "consistent with an ongoing development programme for a missile with limited intercontinental capability using only existing North Korean technology".
According to analysts, given the progress, the missiles "theoretically" possess a strike range between 5,500 and 11,000kms carrying a light, first-generation nuclear warhead - meaning they can reach the US.
In a separate development, South Korea's spy agency has pointed out that North Korea is building EMP weapons capable of knocking out adversaries' electronic equipment.
According to a report submitted by South Korea's National Intelligence Service (NIS) to the country's parliament, North Korea has already bought the Russia-made weapons and is attempting to convert them to suit its needs.
© Copyright IBTimes 2023. All rights reserved.