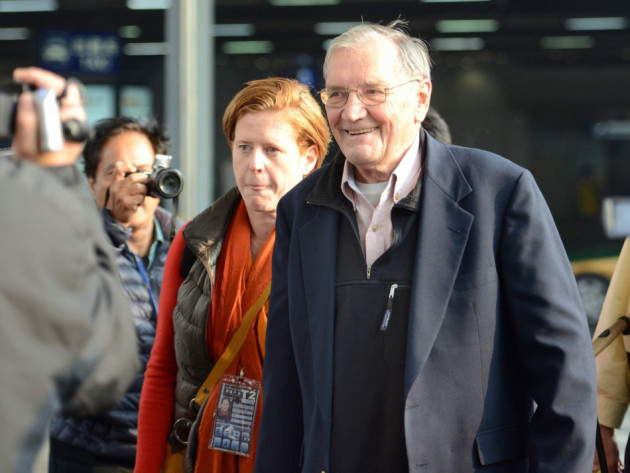 North Korea has freed US veteran Merrill Newman ending the month-long detention in Pyongyang. Vice- president Joe Biden, who is in South Korea, has denied his direct intervention in the release.
The 85-year-old American veteran of the Korean War later arrived in Beijing from Pyongyang.
"I am very glad to be on my way home. And I appreciate the tolerance the [North Korean] government has given to me to be on my way," he told reporters in the Chinese capital.
Newman added the first thing he would like to do is to go home to see his wife.
The state-run Korean Central News Agency (KCNA) said Newman was released on "humanitarian grounds". The reported added that he admitted to the "crimes" he committed during the 1950-53 Korea War and "apologised" for them.
Both US officials and Newman's family members have hailed North Korea's decision.
US State Department spokesperson Marie Harf said: "We are pleased that Mr Merrill Newman has been allowed to depart the DPRK [North Korea] and re-join his family. We welcome the DPRK's decision to release him."
The State Department also took the opportunity to urge the North Korean regime to pardon Kenneth Bae, who has been detained in the country for more than a year, "as a humanitarian gesture".
Newman's son Jeffrey said in a statement read out to the media: "As you can imagine this has been a very difficult ordeal for us as a family, and particularly for him."
Meanwhile, Biden, who is in Seoul as part of his Asia tour, has denied playing "any direct role" in Newman's release.
"The DPRK today released someone they never should have had in the first place. At least there's one bright piece of sunshine, that he will be released and return to his family," said Biden.
Biden also visited the demilitarised zone in Panmunjom located in the highly-tense border between the two Koreas.