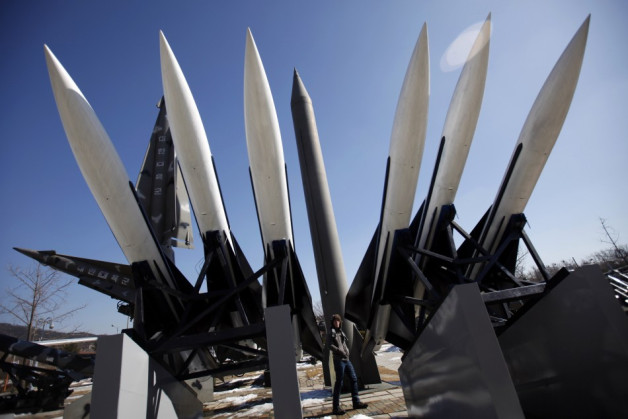 North Korea has reportedly moved two Scud missile launchers to its coastal region, adding to the medium-range missiles already in attack position.
A senior military official told the Seoul-based Yonhap news agency that the deployment is bound to raise tensions further in the Korean Peninsula.
Earlier reports said Pyongyang had already deployed several Scud and short-range missiles targeting South Korea and Japan. This is in addition to the two medium-range Musudan missiles allegedly targeting US bases in the region.
"The military is closely watching the North's latest preparations for a missile launch," said the Seoul source, who spoke on condition of anonymity.
The source cited recent satellite images taken over North Korea showing that transporter-erector-launchers (TEL) have been deployed in South Hamgyeong province. Scud missiles have a strike range of 300km-500km.
Experts in Seoul suspect Pyongyang may be preparing for a missile launch or a huge military parade to commemorate the anniversary of the formation of the Korean People's Army on 25 April.
North Korea had been expected to the flex its muscles earlier to mark its founder's birth anniversary on 15 April, but the country stuck to cultural events alone.
Defence ministry officials say Seoul's forces continue to remain on high alert as the North Korean leader Kim Jong-un's latest order has not been cancelled. Kim placed strategic rockets and artillery units on the highest level of combat readiness on 26 March.
Chief of National Security in Seoul, Kim Jang-soo, told policymakers that although Pyongyang may not start a war, it may launch provocative attacks at any time.
Amid spiralling tensions on the Korean Peninsula, civil society leaders in Seoul have urged both Koreas to show restraint to avert an all-out war.
"The Korean Peninsula now stands at a crossroads. The two Koreas should choose between a simultaneous collapse through war and coexistence through peace. Backed by the United States and China, Seoul and Pyongyang should sign a peace treaty," said a group of leaders, who are equally critical of Seoul's role in the present standoff.