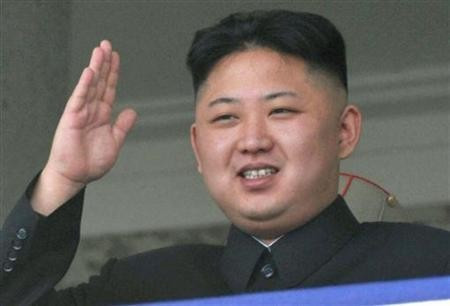 North Korean leader Kim Jong-un has vowed to take "substantial and high-profile important state measures" over the ongoing speculation about a nuclear test in the country.
The remarks are widely seen as a direct reference to an imminent nuclear test, although Kim did not say so explicitly.
Top defence officials and military authorities were present at the meeting when Kim made his remarks. He had also "advanced specific tasks to the officials concerned".
Leaving out the specifics, Kim expressed the country's "firm resolution" to press ahead with his country's as yet unclear plans. Pyongyang had earlier warned the US that the nuclear threat was targeted at America, which was quickly followed by another threat to Seoul.
Kim "expressed the firm resolution to take substantial and high-profile important state measures in view of the prevailing situation," according to the state-run KCNA news agency.
The statement added: "This fact proved once again that the DPRK should defend its sovereignty by itself. It also became clear that there can be no denuclearisation of the Korean Peninsula before the world has been denuclearised."
Kim's statement came a day after the state newspaper Rodong Sinmun ran an article saying that North Koreans "demand" a nuclear test.
"It is the people's demand that we should do something, not just a nuclear test, but something even greater. The UN Security Council has left us no room for choice," said the article.
North Korea conducted nuclear tests in 2006 and 2009. Pyongyang's recent actions were prompted by the latest threat of UN-backed sanctions.
A Seoul government source told South Korea's Chosun Ilbo newspaper: "The 'high-level nuclear test' North Korea is talking about could be aimed at measuring the power of a bomb, testing miniaturised lighter warheads, or detonating multiple bombs," adding: "We believe a nuclear test could take place within days if North Korea really wants to."