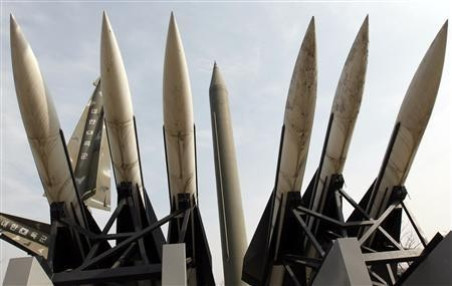 North Korea is well-prepared to conduct its fourth nuclear test, a top defence ministry official in Seoul has told South Korean lawmakers.
Although there have been no indications of an imminent test at North Korea's nuclear sites, the country is all set to press ahead with the test, said South Korea's vice-defence minister Baek Seung-joo.
The official's comments came at a special security briefing for ruling party policymakers on the present situation at the Punggye-ri test site in the north-eastern region.
Baek said one of the tunnels in the south of the underground test site is ready for an explosion any time, according to lawmakers present at the meeting, cited by Seoul's Yonhap news agency.
However, the official added that there are no signs of preparations outside the tunnel. Another tunnel to the site's west is believed to be undergoing construction.
Baek said: "Pyongyang is expected to acquire 6kg of weapons-grade plutonium by the end of next year if the Yongbyon nuclear reactor continues to operate in the current phase."
At the end of August, North Korea appeared to have restarted operations in the Yongbyon nuclear plant, which will enable the country to extract plutonium from fuel rods.
The five-megawatt reactor was shut down in 2007 under the terms of an international nuclear disarmament agreement. The Yongbyon facility can produce up to 6kg of plutonium a year.
"Satellite imagery from 31 August, 2013 shows white steam rising from a building near the reactor hall that houses the gas-graphite reactor's steam turbines and electric generators," said a recent report on the 38 North website run by the US-Korea Institute at John Hopkins School of Advanced International Studies.
South Korea's latest assessment follows a statement of Victor Cha, professor at Georgetown University and former White House security official, that North Korea could conduct another nuclear test by late 2013 or early 2014.
North Korea conducted nuclear tests in 2006, 2009 and in February 2013, sparking widespread international condemnation.