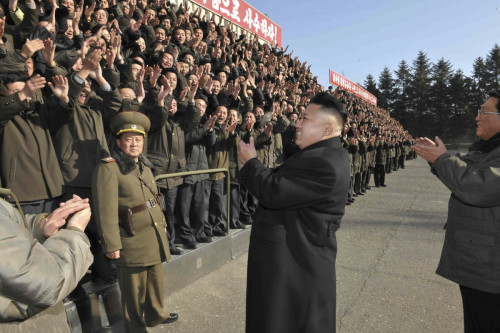 In an open letter to South Korea, the warring neighbour, North Korea, has called for reconciliatory talks to ease tensions in the Korean peninsula.
The letter, written by North Korea's powerful National Defence Commission and carried by the state-run Korean Central News Agency (KCNA), urges South Korea to take part in the talks.
"It is our determination to create an atmosphere of reconciliation and unity, completely halt hostile military acts, realize the reunion of separated families and relatives, resume the tour of Mt Kumgang and reenergise multi-faceted north-south cooperation and exchanges," says the letter.
"The DPRK [North Korea] has already unilaterally opted for halting all acts of getting on the nerves of South Korea and slandering it."
The invitation comes at a time when South Korea is gearing up to hold its annual joint military drill with the US from late February to April. The North Korean letter insists that the military exercise should be halted to proceed with the inter-Korean dialogue, a condition largely seen as a catch.
Seoul has rejected Pyongyang's offer dubbing it as "deceptive" and containing a "hidden motive".
South Korea's vice-ministry spokesperson told a press conference: "The serious security situation now resulted from North Korea's military provocations. Therefore, the current situation can be resolved if North Korea stops threatening and hostile rhetoric. The most important military tactic is to figure out the enemy's hidden motive."
Despite the South Korean rejection of the talks offer, North Korea has reiterated that the "olive branch" proposal stands.
"Our important proposal is neither a deceptive peace overture nor propaganda warfare," the North Korean commission said in a second letter following Seoul's response.
The months-long US-South Korea joint military exercise has always led to tension in the Korean peninsula as Pyongyang sees the drill as a prelude to a provocative strike on its country. Both Seoul and Washington insist that it is just a military exercise.