Seoul Collects Rocket Debris as North Korea Celebrates Launch
South raises doubts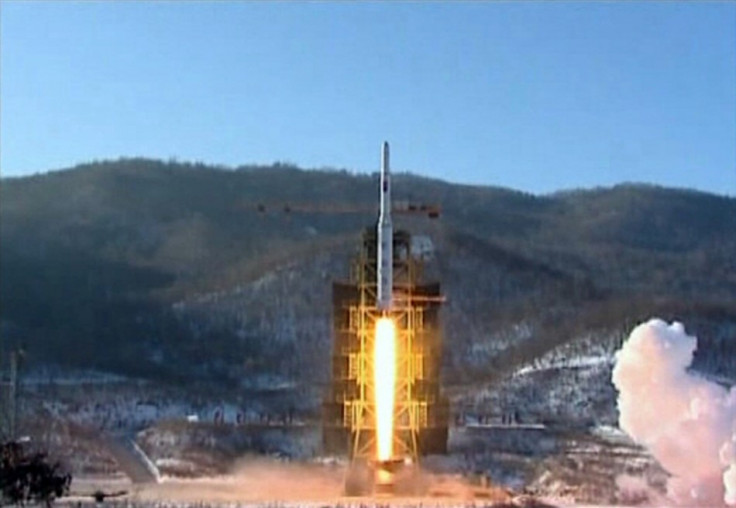 South Korea has collected the debris that fell from the North Korean rocket while Pyongyang is celebratiing the successful launch.
The South Korean Navy had plunged into action in the Yellow Sea just hours after the launch to retrieve the debris of the long-range rocket in order to examine the North's rocket technology.
"The Navy's Deep Submergence Rescue Vehicle retrieved the debris of the rocket's first stage at 00:26 am and was delivering it to the Second Command Fleet in Pyeongtaek," said a South Korean defence ministry official, according to Seoul's Yonhap news agency.
Describing the retrieval, the official said: "The object is 10 m long and 1.6 m in diameter and presumed to be the fuel tank of the first-stage booster." The part is believed to be of a fuel container and had sunk nearly 80 metres to the bottom of the sea.
The first stage of the rocket fell into the Yellow Sea while the second stage dropped off in the Philippines.
The debris is expected to reveal the nature of fuel and the propulsion technology used by the defiant nation. Although the impoverished state is known to have used solid fuel, the specifics are yet to be identified.
Missile experts from the US, the South's ally, are also likely to involve themselves in the investigation of the debris.
Doubts have been raised over the success of the launch as the National Intelligence Service chief in Seoul said: "The North claims that the a song praising Kim Il-sung is being transmitted from the satellite, but no such transmission has been detected by South Korea and other countries yet."
As both Seoul and Washington have accused North Korea of using the rocket as an undercover for its ballistic missile test Choson Sinbo, a Pyongyang mouthpiece in Japan, had also admitted that "there is no big technical difference between a space rocket and a ballistic missile".
North Koreans have already started celebrating the launch by holding a mass rally in the capital.
Trumpeting the success, the official KCNA said: "[Pyongyang] showed at home and abroad the unshakable stand... to exercise the country's legitimate right to use space for peaceful purposes."
© Copyright IBTimes 2023. All rights reserved.