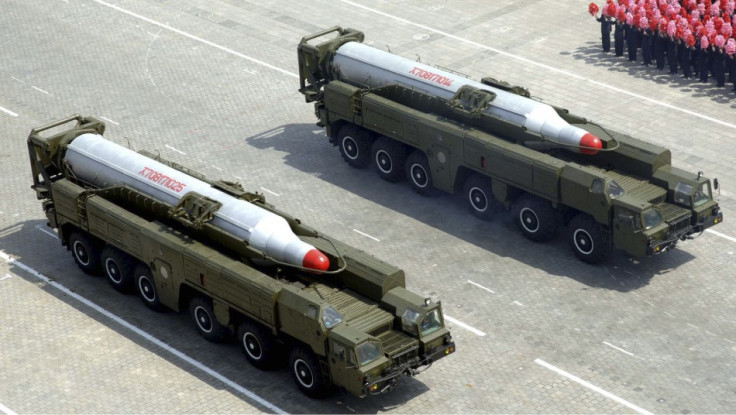 In an exclusive interview, a senior policy planning officer at the Ministry of Unification in South Korea who spoke on condition of anonynity to the International Business Times UK, revealed that the country is keeping the door for dialogue wide open for North Korea even after many provocations. For the news story, click here.
Excerpts from the interview:
IBTimes UK : What exactly is happening in North Korea right now, in terms of nuclear test? Are there any developments?
Official : The international community estimates that North Korea has secured approximately 40kg of plutonium after undergoing at least three times of reprocessing since the operation of a nuclear reactor with the capacity of 5MWe in the 1980s.
Moreover, it is assumed that North Korea is also developing enriched uranium based on the fact that it invited Professor Hecker, co-director of the 'Centre for International Security and Cooperation at Stanford University' and disclosed its centrifuge facility as well as the construction site of light-water reactor in November 2010.
IBTimes UK : There have been reports that North Korea is jamming South Korea's flight signals and reportedly this has been stopped few days back. What is the current situation?
Official : We believe that North Korea has recently stopped jamming GPS signals which had started on 28 April.
However, the Korean government is keeping a close eye on Pyongyang should it resume GPS signal distraction.
Such an action by North Korea is both a violation of the ITU charters which ban harmful cross transmission of signals, and ICAO agreements which guarantees the security of international commercial airplanes.
The government hopes that Pyongyang stops such provocative actions and look after its people's livelihood by cooperating with Korea and the international community.
IBTimes UK : Do you currently hold any kind of talks or discussions with North Korea in any platform? Are there any communications from their side?
Official : It is our government's stance to solve current issues between the two Koreas through dialogue. Under such recognition, the Korean government has proposed inter-Korean working-level talks to discuss joint pest control near ancient tombs (UNESCO designated historic site) in the North and a Red Cross working-level dialogue over the reunion of the separated families. However, the North has not responded to our proposal yet.
Instead, North Korea continues to direct invectives and military threats against the South. Pyongyang insists that it will no longer engage with our government for not having expressed official condolences over Kim Jong-il's death at the end of last year.
The Korean government hopes that North Korea makes a 'good choice' by changing its course of direction and sincerely responding to our proposal for dialogue. Moreover, we hope that North Korea abandons its ambitions for nuclear development and military provocations; comes forward and take the path of dialogue and cooperation. Once again, we would like to underline that the Korean government has not closed the 'window of opportunity' despite Pyongyang's provocative actions.
IBTimes UK : How does North Korea respond to your calls? On major issues?
Official : The Korean government has been pursuing its unification policy under the policy goal of 'normalising and developing inter-Korean relations.' We have responded firmly to Pyongyang's nuclear tests and armed provocations based on our North Korea policy of principle. At the same time, we have tried to establish a mutually beneficial relationship by introducing 'flexibility measures'. We are keeping the 'door for dialogue' open and urge that North Korea make positive changes.
However, North Korea has repeatedly engaged in threats and provocations against the South in attempts to alter our government's North Korea policy and redirect inter-Korean relationship into one that's more unilateral. In defiance of warnings from Korea and the international community, North Korea went ahead with a long range missile launch last month. North Korea refuses to respond to our proposals for dialogue while criticizing our 'flexible measures' as a delusive strategy. By hurling harsh vitriol against Korea's head of state and the government, Pyongyang continues to engage in actions that undermine inter-Korean relations.
The Korean government, under a consistent principle, has responded with calm and restraint to such denunciations and threats. We will continue to encourage the North to make a 'good choice' by keeping the window of opportunity open while maintaining our principled stance to establish peace on the Korean peninsula and develop a normal inter-Korean relations.
IBTimes UK : Is the US re-deploying its strategic nuclear weapons in South Korea to strengthen the country against the North? Can you please shed light on that?
Official : We believe that the discussion within the US Congress on re-deploying strategic nuclear weapons came about as various efforts to solve the North Korean nuclear issue have not produced tangible results and as Pyongyang continues to develop its nuclear program.
The Korean government maintains its basic stance toward denuclearization based on the 'Joint Declaration on the Denuclearization of the Korean Peninsula' agreed by the two Koreas. In other words, it must be guaranteed that no nuclear weapon will be tested, manufactured, produced, deployed, and used on the Korean peninsula. Furthermore, we have firmly maintained the fundamental principle that possession of facilities for nuclear reprocessing and uranium enrichment will not be permitted.
However, North Korea continues to raise tension as it develops its nuclear program in neglect of the 'Joint Declaration on the Denuclearization of the Korean Peninsula' and the agreements made at the 6-party talks. This is the reason why we are demanding for North Korea's denuclearization.
IBTimes UK : How do you think these conflicts will resolve? What should North Korea do in order to resolve the matters peacefully? Both long-term and immediate measures.
Official : There have been ups and downs in inter-Korean relations over the past six decades. There were times of greater crisis but the concerted efforts of the Korean government and its people have enabled us to overcome the hardship and achieve the development we see today. It is our firm belief that we can surmount any difficulties as long as we have a sincere willingness toward enhancement of inter-Korean relations and a peaceful reunification.
The current tension on the Korean peninsula is triggered by the North's nuclear development, armed provocations, and threats. Pyongyang continues to develop its nuclear program in neglect of the promise it had made with Korea and the international community. Moreover, 50 Korean citizens were killed as a result of the North's two armed provocations in 2010. The Korean government is taking decisive measures in close cooperation with the global community under the recognition that normalisation and development of inter-Korean relationship are possible only by tackling such problems. Above all, as the aggressor, North Korea should show signs of change in attitude and take responsible steps in solving problems it has created. At the same time, a stable inter-Korean communication channel should be established to continue improving relations. The Korean government continues to keep the 'window of opportunity' open and hopes that North Korea makes a good choice. We call for a positive response from North Korea.