North Korean soldier shot by fellow troops as he defected to the South
The soldier was taken to hospital with gunshot wounds to his elbow and shoulder, South Korean officials said.
A North Korean soldier was shot by his fellow troops as he was defecting to the south across the demilitarised zone but still managed to successfully cross the border.
The soldier defected through Panmunjom village, along the Joint Security Area (JSA), which is policed by soldiers from both North Korea and South Korea. According to The New York Times, following a blast of gunfire, South Korean troops found a bleeding North Korean soldier on their side of the border on Monday (13 November).
The defector, dressed in a combat uniform, was unarmed, Al Jazeera reported. After being shot, he took cover near a building on the southern side of the JSA before South Korean and American troops came to his aid.
He was taken to hospital with gunshot wounds to his elbow and shoulder, South Korean officials said.
"In the afternoon today, a North Korean soldier defected from a guard post on the North Korean side of the JSA toward our side and our military took him," the Yonhap news agency quoted an unidentified military official as saying.
"The military has raised its alertness against the North Korean military's possible provocations and is maintaining its full readiness posture," the official said.
The rare defection took place as a joint naval exercise, which included three American aircraft carriers and seven South Korean warships, was being carried out in waters off South Korea's east coast.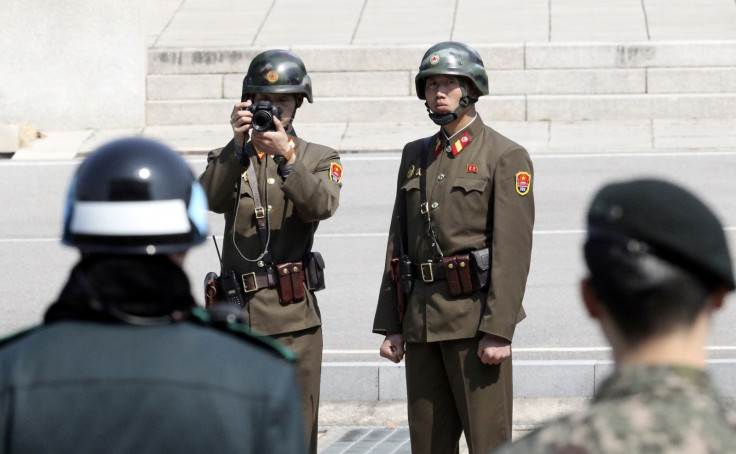 The Times noted the exercise, which is set to end on Tuesday (14 November), was the first time in a decade that the US Navy has mobilised three carrier groups in the same drill in the western Pacific. The US has around 28,500 troops stationed in South Korea.
The military exercise led North Korea to respond angrily, calling US President Donald Trump a "dotard" on Saturday (11 November). North Korea has accused the allies of planning a first strike against the communist regime.
The last defection by a North Korean soldier at the demilitarised zone occurred in 2007.