Chants of "not my president, not today," are ringing throughout the US as thousands took to the streets following the shock victory of President-elect Donald Trump. Protesters turned out in Boston, New York, Chicago and a host of other major cities for a second round of anti-Trump demonstrations on Wednesday (9 November).
In Boston, police estimate 10,000 peaceful protesters flooded the streets carrying signs reading "Love Trumps Hate," "Trump is racism" and "Impeach Trump" in opposition to Trump's presidency.
According to the Boston Globe, protesters appeared to multiply by the minute as they filled Boston Common. City police officers were on stand by near the demonstration, the Globe reported.
WCVB reported that demonstrators moved on to the Massachusetts Statehouse and Copley Square chanting "we will not be silenced". Those protesting are thought to have been made up by university students from the dozens of institutions around the city.
Robert Duncan, a 19-year-old black musical theatre student at the Boston Conservatory, told WCVB that as a gay man, he sees Trump as an oppressor.
"He's said awful things to people of all different kinds," Duncan said. "I'm here because I just want to get all my emotions out honestly. I'm sad. I've been crying all day."
Duncan's sentiments were echoed by high school and university students participating in protests and walk outs in other cities.
Protesters in New York City were undeterred by the rain, marching through Sixth Avenue and to Trump Tower. According to BuzzFeed News, protesters burned an American flag and chanted expletive-filled slogans against the president-elect.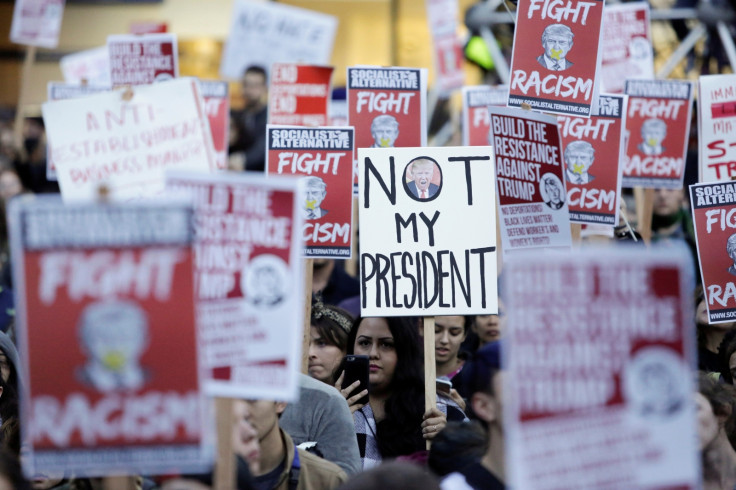 Meanwhile, hundreds in Chicago elected to demonstrate at Trump International Hotel & Tower on Wednesday (9 November) in what was described as a "grand uprising" by NBC News.
"I'm here today because I'm speechless at what happened," 22-year-old Rebecca Gomez told NBC. "I'm Mexican, but I was born in the United States. I'm afraid people won't care about that, though. I'm afraid they will be violent."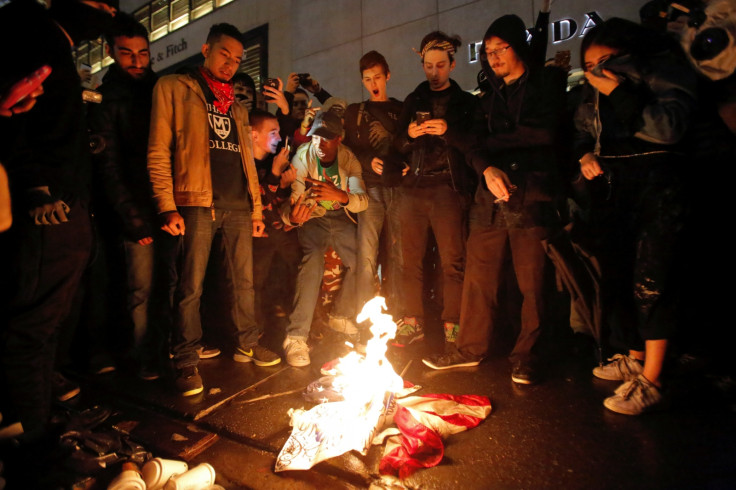 Earlier in the day, students at American University in Washington burned a flag on campus while others walked out of class. High school students in downtown Los Angeles filled the steps of City Hall to vent their frustrations and fears, CNN reported.
"We can't let it stop us. If he's the president then fine, but if Donald Trump is gonna be it then he has to listen," 18-year-old Brooklyn White said.
About 1,500 students from Berkeley High School in California walked out of classes, while hundreds more left their classes in Des Moines, Iowa and Phoenix, Arizona.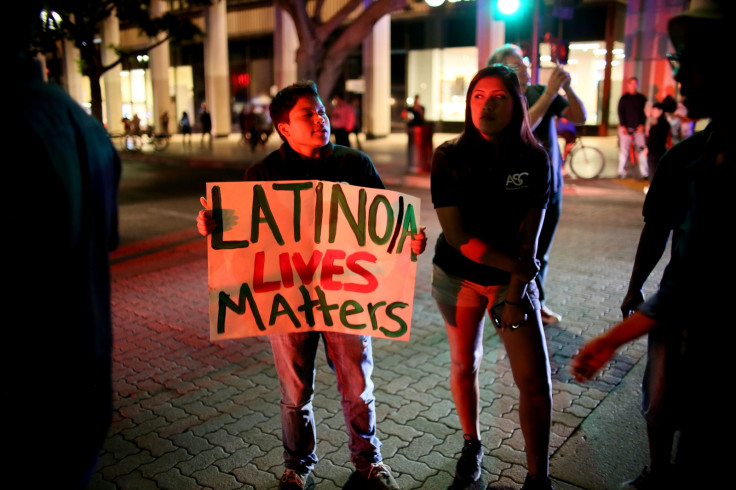 Minority voters are concerned Trump will make good on his campaign promises. "The question on the minds of these people is if Trump will govern the way he campaigned," Andra Gillespie, an Emory University political scientist, told NBC.
"He's said a lot, but without a track record, it's unclear what he will actually do."