Will Donald Trump keep his promise to throw Hillary Clinton in jail?
The Republican reiterated the sentiment throughout his campaign.
Donald Trump is yet to comment on whether or not he intends to make good on his campaign promise to "lock up" his former Democrat rival, Hillary Clinton.
Throughout his election battle, the businessman commented he would pursue a case against Clinton over the email investigation that dogged much of her campaign.
He issued the threat several times over the course of his campaign, at one point repeating it during a presidential debate.
"I'll tell you what. I didn't think I'd say this, but I'm going to say it, and I hate to say it. But if I win, I am going to instruct my attorney general to get a special prosecutor to look into your situation, because there has never been so many lies, so much deception," Trump said.
"There has never been anything like it, and we're going to have a special prosecutor."
"It's just awfully good that someone with the temperament of Donald Trump is not in charge of the law in our country," Clinton responded.
"Because you'd be in jail," Trump shot back.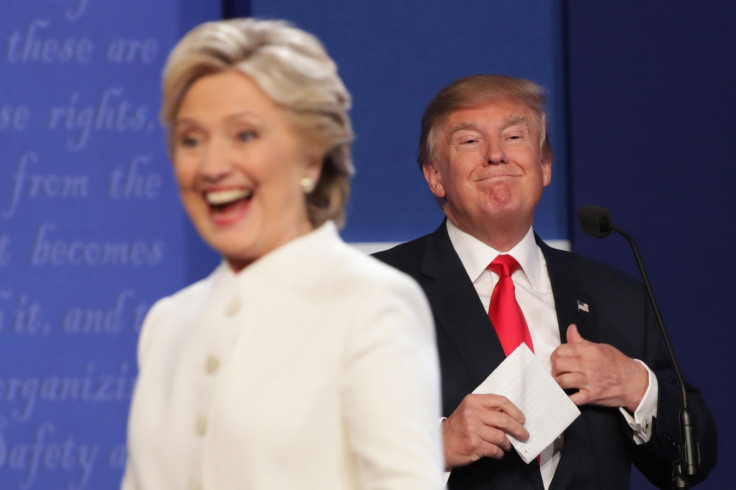 However, despite his pledge, Trump has adopted a far more conciliatory tone towards his former rival since claiming victory, praising her campaign in his victory speech.
He told his supporters Clinton had "worked very long and very hard over a long period of time", adding that the US people "owe her a major debt of gratitude for her service to our country".
The investigation into Clinton was dropped by the FBI during the campaign, before being reopened less than a week prior to the election, in what Clinton supporters are blaming for their candidate's election loss.
But Trump's campaign chairman, Kellyanne Conway, didn't rule out the possibility of pursuing an investigation into the Democrat, telling The Hill that Trump "did not discuss [a special prosecutor] last night since his victory."
Conway also told MSNBC that Trump had not discussed the matter with Clinton when the pair spoke on the phone when she conceded the election.
© Copyright IBTimes 2023. All rights reserved.