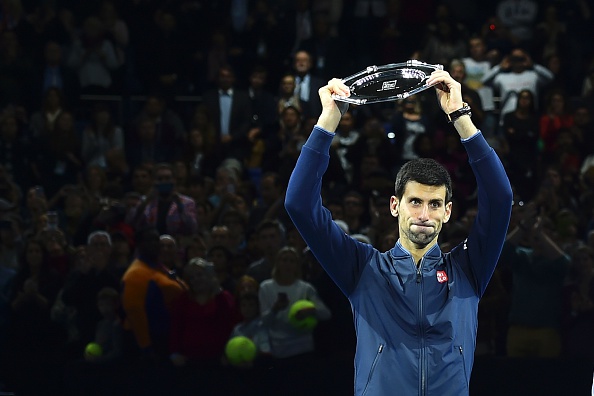 Tennis players are known for their high levels of intensity and speeds as their game is based on how they combine both of them into one perfect package. Speed is measurable and according to a new study from Tennis Australia's Game Insight Group, Serbian Novak Djokovic and Romanian Simona Halep are the world's fastest tennis players.
The Game Insight Group (GIG) undertook a study that measured players while running across a distance of 3m or more, involving the use of statistics from the Australian Open over the years. The study found that Djokovic has the highest top speed (36.0km/h) while current world number one Andy Murray has a higher average top speed (15.89km/h) as compared to the Serb.
Tennis legends Roger Federer and Rafael Nadal came in second and third in the list of the average top speed with timings of 15.55km/h and 15.38km/h respectively. Their top speed figures were not too flattering though, with Federer coming 17<sup>th in the list and Nadal finishing in 12<sup>th position.
In the Women's Tennis Association (WTA) circuit, Angelique Kerber had the highest average top speed with 14.27km/h while Julia Goerges (13.85km/h) came in second followed by Agnieszka Radwanska (13.79km/h) and Simona Halep (13.69km/h).
Halep finds herself on top of the list when it comes to highest top speed with 23.04km/h with Carla Suarez Navarro (22.48km/h) coming in second and Dominika Cibulkova finding herself in third place. Research on two of the most popular players on the circuit, Serena Williams and Maria Sharapova, was also done, with the Russian surprisingly posting better numbers in both higher top speed and average top speed.
List of Top Speed and Average Top Speed timings of players (in km/h)
ATP (Men's)
1) Novak Djokovic (36.02/14.89)
2) Andy Murray (34.87/15.89)
3) Lleyton Hewitt (31.24/15.24)
4) Gilles Simon (30.76/14.93)
5) Grigor Dimitrov (28.91/15.05)
6) David Ferrer (27.82/14.71)
7) Stan Wawrinka (27.66/15.17)
8) Tomas Berdych (27.28/14.49)
9) Milos Raonic (27.28/15.36)
10) Kei Nishikori (27.17/14.52)
12) Rafael Nadal (26.84/15.38)
17) Roger Federer (26.03/15.55)
WTA (Women's)
1) Simona Halep (23.04/13.69)
2) Carla Suarez Navarro (22.48/13.56)
3) Dominika Cibulkova (21.98/13.43)
4) Agnieszka Radwanska (21.82/13.79)
5) Eugenie Bouchard (21.82/12.95)
6) Ajla Tomljanovic (21.69/13.33)
7) Angelique Kerber (21.46/14.27)
8) Garbine Muguruza (21.32/13.21)
9) Ana Ivanovic (20.9/13.64)
10) Julia Goerges (20.75/13.85)
11) Maria Sharapova (20.61/13.6)
13) Serena Williams (20.52/13.5)