Are you a huge fan of Neil Armstrong, the first person to walk on the Moon, or just an aspiring Nasa astronaut?
Well now you can dress up as an astronaut, in particular the main man himself, with an Apollo 11 sweatsuit (what we in the UK call a "tracksuit") modelled on one of Commander Armstrong's A7L pressure suits.
Armstrong had three pressure suits during the Apollo 11 mission – one for flight, one for training and one as a back-up.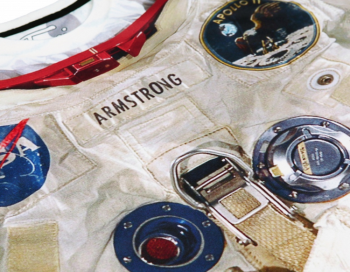 The pressure suit that he flew in and used to take his first historic steps on the Moon in 1969, watched by the world, has now been made into a snazzy comfortable space sweatsuit by Fancy.com.
Made using photographs of the original suit, the tracksuit features Armstrong's signature name tag, Nasa and Apollo 11 patches, as well as the numerous electrical connectors, diverter valve controls and tether attachment points.
Made from polyester, fleece and elastane, the sweatsuit is available in both men's and women's sizes and comes with fitted cuffs on the sweatshirt, two side pockets, a back pocket and a drawstring elastic waistband on the trousers.
While Armstrong's original pressure suit has become an important part of living history and you're never going to get your hands on it, if you can cough up $139 (£91) for the Apollo 11 sweatsuit, then you could soon be wearing the next best thing.