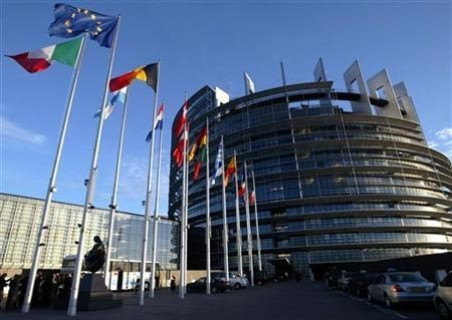 The European Union is considering strong action against the US over the latest NSA revelations even as Germany has suggested non-binding sanctions on America.
German Justice Minister Sabine Leutheusser-Schnarrenberger has called for suspending a post-9/11 agreement with the US.
The deal, called Terrorist Finance Tracking Program, popularly dubbed as SWIFT, allows the US to access bank transfer data in its friendly countries to closely monitor transactions in order to track terrorists' money.
The European Parliament had last week voted to freeze Washington's access to banking network. The EU said the US has been abusing the agreement to gather undue economic intelligence, which is in no way connected to terrorists' activities. Even though the voting was non-binding, it largely reflected Europe's anger against NSA spying on its citizens.
"It really isn't enough to be outraged. This would be a signal that something can happen and make clear to the Americans that the (EU's) policy is changing," Leutheusser-Schnarrenberger told rbb-Inforadio.
The suspension of the agreement requires approval from the 28-member bloc, but if it goes ahead, it will be one of the sharpest responses to the US. To suspend the SWIFT deal, it needs be approved by the European Commission, the EU executive as well the EU governments.
The European Commission is "still waiting for additional written assurances" from the US over spying.
German Chancellor Angela Merkel has also openly expressed support for the suspension and said she needs "to look at this again more closely".
The latest revelations are already leading to a recalibration of some European nations' political equations with the US. However, countries such as Spain are cautious so that the Edward Snowden disclosures do not permanently damage their relations with the US.
Germany, France and Spain are all demanding explanations from Washington over the exposé, according to which the NSA allegedly snooped on millions of citizens including high-profile officials.
As the scandal snowballs, the US has acknowledged that it needs to implement additional "constraints" over its intelligence gathering activities.
White House spokesperson Jay Carney said the Obama administration "recognises there needs to be additional constraints on how we gather and use intelligence".
Dianne Feinstein, chairperson of the Senate Intelligence Committee has said her panel will undertake a "major review" of US intelligence programmes.
The Democratic senator said: "With respect to NSA collection of intelligence on leaders of US allies -including France, Spain, Mexico and Germany - let me state unequivocally: I am totally opposed."
"Unless the United States is engaged in hostilities against a country or there is an emergency need for this type of surveillance, I do not believe the United States should be collecting phone calls or emails of friendly presidents and prime ministers. The president should be required to approve any collection of this sort."