South Korean troops are reportedly on standby to "eliminate" North Korea's leader Kim Jong-un, should they feel threatened by their nuclear weapons.
According to CNN International, South Korean Defence Minister Han Min-koo revealed the information in parliament on 21 September. When asked whether a special forces unit had already been put together to eliminate the North Korean dictator, Han confirmed that such a plan was already in place.
The defence minister said: "South Korea has a general idea and plan to use precision missile capabilities to target the enemy's facilities in major areas, as well as eliminating the enemy's leadership."
Tensions have been rising in the Korean Peninsula since North Korea conducted its fifth nuclear test, the largest yet, on 9 September. The US, France and UK have since pushed for new sanctions to be imposed on the country, however, North Korea has insisted that they will continue to increase its nuclear force in order to emphasise their "right to exist".
Following South Korea's comments about eliminating Kim Jong-un, North Korea has hit back, accusing the US and South Korea of driving the situation in the Korean Peninsula "to the uncontrollable and irreversible phase of the outbreak of a nuclear war". Acknowledging their plans to remove North Korean leadership, North Korea lashed out at the "South Korean puppet warmongers".
"US imperialists and the Park Geun Hye group of traitors should not forget even [for] a moment that our revolutionary armed forces are ready to fight a decisive battle to thoroughly foil the reckless military moves for... a preemptive strike at the North," a spokesperson for the Korean People's Army said. "Time will prove what disastrous consequences will be entailed by the reckless remarks made by such half-wits as Park Geun Hye and Han Min-koo."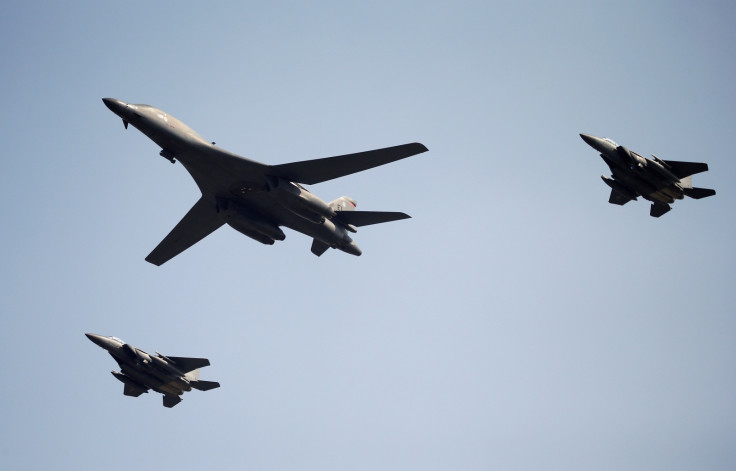 North Korea's army has warned that any nuclear warheads fired at South Korea would "completely reduce Seoul to ashes". On 13 September, it also issued threats against the US, stating that they were "fully ready to mercilessly strike" them and "wipe them out to the last man".
Earlier this week, the US Air Force flew nuclear-capable bombers over the Korean peninsula for the second time since the North's nuclear test. A pair of B-1B Lancer strategic bombers cruised over South Korea and one of the jets also landed at the South's Osan Air Base Pyeongtaek, located roughly 40km from Seoul.
"What we are showing is just one tool we have to choose from a wide array of options," Lieutenant General Thomas Bergeson of the US Forces Korea said the time. "The alliance grows stronger every day and we remain prepared to defend and to preserve the security of the Korean Peninsula and the region."