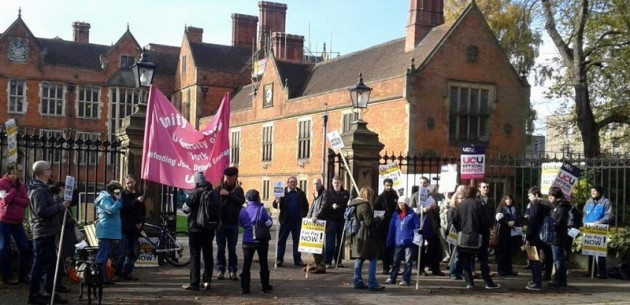 UK universities leave more than 12,000 workers worse off than the Living Wage, according to new research.
The National Union of Students and trade union UNISON revealed that 12,592 employees are paid less than the Living Wage by UK universities.
More than half of universities (57%) - amounting to 80 institutions across the UK - paid less than the rate of £7.45 (2012-2013) per hour outside of London.
In fact, the research, obtained through freedom of information requests, found that the median lowest wage for staff at universities is £7.39 per hour.
The survey also found that there are five universities having more than 500 staff paid less than the Living Wage and 39 universities with more than 100 employees paid less than the Living Wage
The NUS and UNISON have now called on every university in England, Scotland, Wales and Northern Ireland to become accredited Living Wage employers.
"The simple fact is that higher wages are fed back into our economy. They also represent a significant saving to taxpayers, who otherwise subsidise low-paying employers through in-work benefits and tax credits," said Dom Anderson, NUS vice president.
Although the report cites the prevalence of pay below Living Wage in higher education institutions, it also highlights campaign successes, commending those universities, including Huddersfield University, who have been accredited as Living Wage employers since UNISON and NUS student unions' campaign began.
Dave Prentis, UNISON general secretary, added: "This research shows that while vice-chancellors are enjoying six figures salaries, many more university workers are at the bottom of the pay scale, struggling to survive on less than the Living Wage. The value of their pay keeps on falling, while the cost of basics such as food and fuel keeps on rising."
The figures follow strikes last week by university lecturers and staff over pay.
Members of the University and College Union (UCU), Unison and Unite protested for one day, because employees received a 2013/14 pay rise of only 1%.
The unions demanded a basic pay hike of at least 3.2% to match inflation, plus an unspecified percentage for "catch-up", according to the University and Colleges Employers Association.
Mayor Boris Johnson increased the London Living Wage from £8.55 to £8.80, to coincide with Living Wage Week, from 4 to 8 November.