Nutmeg, an online investment managing company based in the UK, has launched today.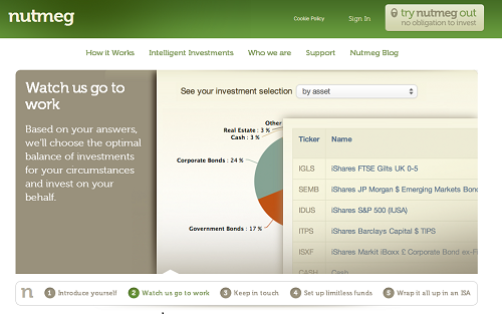 The company is an online investment manager for individuals of any level of wealth. The user can set a level of risk, a timeframe for the investment and a desired financial amount, and the Nutmeg agents will make investments. There is a minimum lump sum of £1,000, and after that the user is free to contribute more, move money around, and even withdraw.
Nutmeg operates on a loyalty scheme, with users able to collect points, or 'nutmegs', that can be exchanged for a smaller annual rate. Nutmeg starts with an annual rate of one percent, but with the nutmeg point scheme, users can lower it down to 0.3 percent.
The company raised £3.4 million in a second round of venture capital funding, with venture capital firm Pentech and Daniel Aegerter leading the round. Another investor in the company is Draper Associates, the investment firm of Tim Draper, an investor in Skype and Hotmail.
Nutmeg was founded by Nick Hungerford, previously a manager at Barclays Wealth and the divisional director at investment management firm Brewin Dolphin.
Nutmeg is one of many companies set to democratise the financial services industry, giving individuals and small businesses access to certain services that were previously set only for the wealthy.
The company is regulated by the FSA and hopes to offer a first choice alternative to banks for customers who want to enter the investment world and manage their ISAs.