Nvidia is claiming that its latest generation of GeForce graphics chips will be twice as powerful as last year's models and 10 times faster than the integrated graphics which come with Intel's latest chips, known as Ivy Bridge.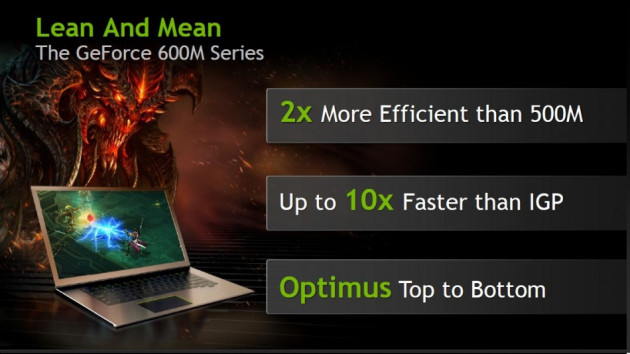 Intel has just launched its Ivy Bridge platform officially, but Nvidia believes that its latest GeForce 600M family of chips will outperform the Ivy Bridge's integrated graphics, known as Intel HD 4000.
Intel's Ivy Bridge platform consists of 14 different processors for PCs and laptops. Initially there is no Core i3 chips available but five Core i5 variations, eight Core i7 variations and one Core i7 Extreme Editions. Core i3 is set to launch later this year
Intel is using for the first time a 22nm fabrication process which should bring a lot of energy efficiency compared to the 32nm process on which the previous generation, known as Sandy Bridge, were built.
The Intel Graphics HD 4000 which is the integrated graphics on the Ivy Bridge chips and Intel is promising double the graphical performance compared to the Sandy Bridge's HD 3000 graphics. Intel has completely redesigned its integrated graphics, adding DirectX11 support. new processors are the first to use so-called 3D transistors, called Tri-Gate. The 3D design lets the transistors runa tlower voltages as well as improving performance.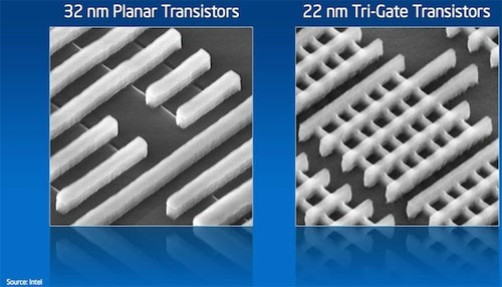 Intel goes as far as to say: "The built-in visuals of the 3rd gen Intel Core processor eliminate the need for many of the functions provided by a discrete graphics card, reducing power consumption and system cost."
However, Nvidia believes that its GeForce family of notebook graphics cards will be able to outperform the Ivy Bridge graphics by as much as 10 times, and says that the Intel Graphics HD 4000 would be only capable of playing 43 percent of the top games of 2011, with playable defined as greater than 30 frames per second, at 13 x 7 resolution without graphics corruption.
Nvidia is claiming that its new 600M family, which is made up of seven different discrete graphics cards, is capable of playing 100 percent of the top games at similar settings. These titles include AAA games like Portal 2, Call of Duty: Modern Warfare 3 and Batman Arkham City. This is based on a quad-core Ivy Bridge i7 processor paired with the GeForce GT 620M GPU.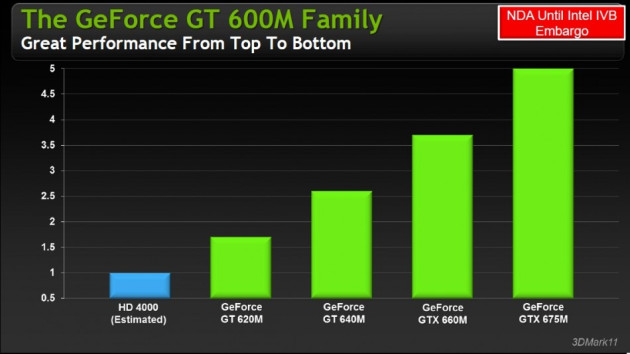 Nvidia also claim that Intel's suggestion that Ivy Bridge adds support for DirectX11 graphics does not mean you will be able to play all DirectX11 games, claiming that 66 percent of the top 2011 DirectX11 games were unplayable on HD 4000, with the same setting as before.
But Nvidia is claiming the GeForce 600M family is not just about performance, it is also twice as efficient compared to last year's 500M family of GPUs. This is in part thanks to the inclusion of Nvidia Optimus technology at all levels of the 600M range.
Optimus is a technology created by Nvidia to save battery life by automatically switching the power of the graphics processing unit (GPU) off when it is not needed and switching it on when needed again. The technology mainly targets notebooks and when the GPU power is off, the driver redirects graphics commands to the integrated graphics chip, such as HD 4000 graphics in this case.
For a lot of people, the addition of a discrete graphics card on a laptop might seem a little pointless, when most people don't play AAA titles on these machines anyway. However, according to figures from research firm IDC, the enthusiast notebook market, or gaming notebooks, has grown by 34 percent between 2009 and 2011 while the general notebook market has grown by just 11 percent.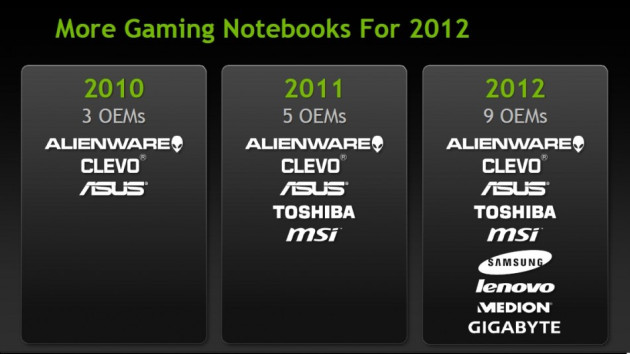 In 2012, nine manufacturers will release gaming laptops with Nvidia discrete graphics including Samsung, Lenovo and Medion for the first time. This is up from just 3 manufacturers in 2010.