Chip maker Nvidia has announced its latest mobile chip, Tegra 4, which is up to 3.5 times faster than current chips.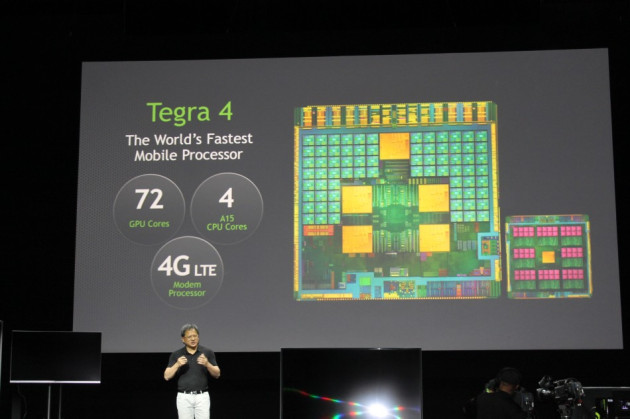 Follow all the news, reviews and rumours on our CES 2013: Live Blog
Nvidia CEO, Jen-Hsun Hunag, called the announcement of Tegra 4 one of the worst kept secrets in consumer electronics. The chip is the latest in Nvidia's line of mobile chips with integrated graphics and processor on one chip, known as system-on-chip.
Like the Tegra 3 chip, which powered some of 2012's most high-profile smartphones and tablets, Tegra 4 will have a quad-core processor but instead of 12 graphics cores, the latest chips from Nvidia will have 72 cores.
One of the major advantages of this will, according to Huang, be for photography. The "Nvidia computational photography engine" will allow for a new way to take High Dynamic Range shots, but instead of taking two separate shots (which is the current system), the two shots will be taken virtually simultaneously,making it up to ten times faster than current sert-ups.
The chip will come with a 4G LTE modem, but the diagram shown during the presentation indicates that the modem will be discrete rather than integrated. This was a problem for Tegra 3 as the lack of an integrated 4G modem negatively impacted battery life, and the same will happen with Tegra 4 if this proves to be the case.
While Tegra 3 did find its way into a number of high profile devices, it wasn't as prolific as Qualcomm's Snapdragon and while that chip doesn't have an integrated chip either, Qualcomm is expected to launch a chip soon with an integrated modem.