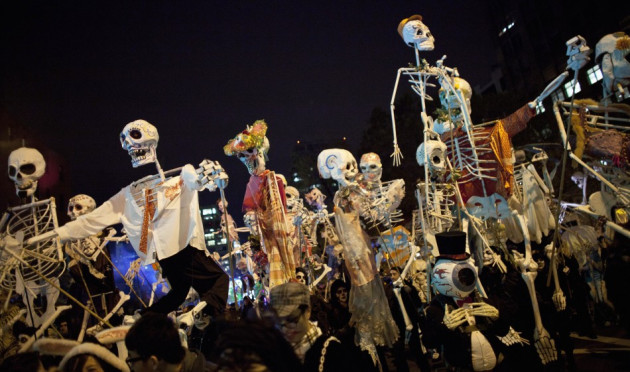 The traditional Village Halloween parade in New York City has been cancelled for the first time in 39 years because of 'Frankenstorm' Sandy.
Organisers announced on the website that the parade, which attracts thousands of visitors and NYC residents every year, will not be rescheduled for this year.
Mayor Michael Bloomberg earlier raised the possibility that the parade would be postponed to next week.
"We just cannot spare the manpower from the NYPD and other city agencies to host the annual Greenwich Village Halloween Parade, so we are postponing it to a later date sometime next week," the mayor said.
"We'll figure out what date makes sense given the resources the city has."
But the event's official website poured cold water on expectations that there would be a 2012 parade.
"For the first time in our 39-year history, the Mayor's Office of Emergency Management and the New York Police Department have cancelled the parade," it said.
"We hope that everyone who would have come to the parade is safe, and that those who can, volunteer to help out at one of the emergency outreach centres near you."
The parade route goes through West Village and Chelsea, two neighbourhoods badly affected by the storm.
Flooded subways remain closed, putting extra pressure on the roads.
The New York marathon planned for 4 November, however, is still going ahead.
New York Road Runners president and CEO Mary Wittenberg said: "The marathon has always been a special day for New Yorkers as a symbol of the vitality and resiliency of this city. NYRR continues to move ahead with its planning and preparation. We will keep all options open with regard to making any accommodations and adjustments necessary to race day and race weekend events."
New Jersey governor Chris Christie wrote on Twitter that Halloween could be postponed in the state as a result of the hurricane.
"If conditions are not safe on Wednesday for trick or treating, I will sign an executive order rescheduling," the governor wrote.
"We are in the midst of urban search and rescue. Our teams are moving as fast as they can. The devastation on the Jersey shore is some of the worst we've ever seen - the cost of the storm is incalculable at this point.
"I didn't think it would be that bad. I didn't think you'd see homes in the middle of highways."