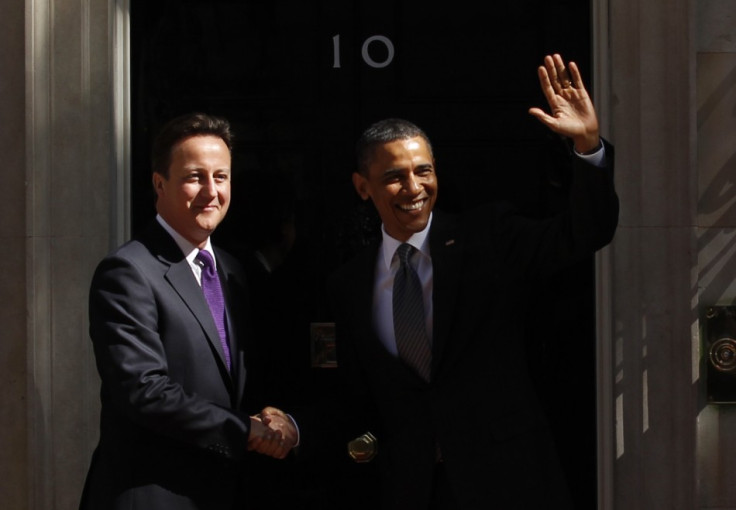 Barack Obama is currently holding talks with David Cameron in Downing Street, with the conflicts in Afghanistan and Libya expected to be high on the agenda of the bilateral talks that are expected to last about 90 minutes.
Deputy Prime Minister Nick Clegg, Foreign Secretary William Hague and U.S. counterpart Hillary Clinton are also attending the meeting, where the state of the global economy, counter-terrorism and the conflict in Afghanistan, the Nato-led operation in Libya and the Arab spring are also likely to feature.
After the talks at 10 Downing Street and the U.S. leader's speech at the Palace of Westminster the Prime Minister and U.S. President will hold a joint press conference at 12:30 before attending a barbecue in the garden of No 10 Downing Street before heading to Buckingham Palace for a private lunch.
On the bilateral talks, Foreign Secretary William Hague said there were "no fundamental differences" between the two countries on key foreign policy issues while he also insisted President Obama's visit would bring "intensified co-operation" on different levels.
He played down reports that the U.K was 'unhappy' with the U.S. contribution to military operations in Libya, stressing U.S. aircraft had accounted for a quarter of missions and that they were at the same time providing key logistical and intelligence support.
"We do not regard the U.S. as taking a back seat (in Libya)," he told BBC Breakfast.
"They do look to their allies to do a great deal as well which France, the U.K. and other nations are doing but I don't think one can fault that," hinting at the possibility of the talks focusing on "intensifying" pressure on the Gaddafi regime for a while.
On Afghanistan, where both countries are looking to gradually reduce the number of troops, and with recent reports that Mr Cameron had envisioned the possibility of a withdrawal as early as this summer, a suggestion that America did not receive gracefully, Mr Hague said the allies were "both committed to the military and political efforts" to bring long-term stability.
The Obamas will this evening conclude their state visit with a dinner at the U.S. ambassador's residence, Winfield House, for guests including the Queen and the Duke of Edinburgh. On Thursday, Mr Obama and Mr Cameron will fly to France for the G8 summit in Deauville, France.