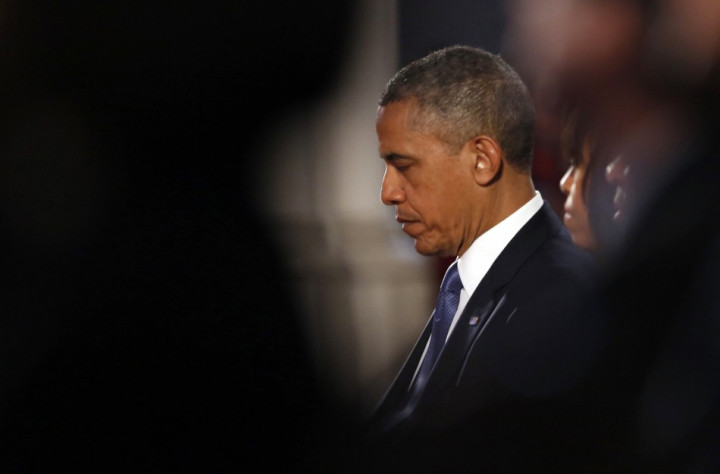 US president Barack Obama has delivered a powerful and inspired speech at an interfaith memorial service in Boston in the aftermath of the twin blast at the Marathon's finish line.
Praising "one of America's iconic cities and one of the world's great cities", Obama recalled his few years at the Harvard law School to explain his personal connection to the city. "There is a piece of Boston in me," he said. "In this moment of grief, we join you in saying-'Boston, you're my home.'"
Amid sustained applause, Obama said "they picked the wrong city to do it". "Not here in Boston. Not here in Boston," he said.
"We may be momentarily knocked off our feet, but we'll pick ourselves up. We will keep going. We will finish the race," he continued, mentioning a 78-year-old knocked down by the explosion. "This time next year, on the third Monday in April, the world will return to this great American city to run even harder, and to cheer even louder, for the 118th Boston marathon."
The US president also warned "anyone who would do harm to our people" that "we will find you and we will hold you accountable. Our fidelity to a free and open society will only grow stronger"
Obama delivered a tribute to each of the three victims killed - Krystle Campbell, 29; Lu Lingzi, 23; and Martin Richard, 8. He told wounded runners: "Your city is with you. Your country is with you. We will all be with you as you learn to stand and walk and yes, run again," he said. "Your resolve is the greatest rebuke to whoever committed this act."
The president spoke at the interfaith service "Healing our city" in Boston's cathedral of the Holy Cross honouring the three people killed and 170 injured when a twin blast ripped through the crowd Monday afternoon near the finish line of the famous race.
"Massachusetts invented America"
Among the other speakers were Massachusetts governor Deval Patrick and Boston Mayor Tom Menino.
"Massachusetts invented America," said governor Patrick, amid applause from the crowd. "We will recover and repair. We will grieve our losses.
"Grace that this tragedy exposed is the best of who we are," he said.
"We are one Boston, no adversity, no challenge nothing can tear down the resilience of the heart of the city and its people," Boston mayor Tom Menino said. "I have never loved it, its people more, than I do today."
"And yes, we even love New York City more," Menino said. "Sweet Caroline, playing at Yankee Stadium."
"Nothing can defeat the heart of this city. Nothing can take us down," he said. "Even with the smell of smoke in the air and blood on the streets, tears in our eyes, we triumphed over hate."
"We will rise as one"
Rev. Liz Walker at the Boston prayer service said: "We will rise in community and face whatever future holds. Resolutely, as one."
Nasser S. Weddady, chair of the New England Interfaith Council and civil rights outreach director of the American Islamic Congress, said: "Now, all of us need to take up this pledge. We all have service to perform". He quoted the Quran saying that "whoever kills a soul, it is as if he killed mankind entirely"
Reverend Roberto Miranda, pastor of the Congregacion Leon de Juda in Roxbury, outside Boston, said: "God's love will yet have the last word. God has not forsaken Boston. God has not forsaken our nation. He merely weaves a beautiful, bright tapestry of goodness, that only includes a few dark strands."
The prayer service was held after Homeland security secretary Janet Napolitano confirmed authorities would "like to speak with" two people who appear in video footage of the attack sites. It is unclear whether authorities would release the images on Thursday.
"We have been collecting video from a variety of sources," she said. "There are lots and lots. There is some video that has raised the question about those that the FBI would like to speak with. I would not characterize them as 'suspects' as a technical term."
Obama is expected to meet victims of the Boston attacks and with the families of those injured or killed, according to spokesman Josh Earnest. "I know this is something that the President has spent a lot of time personally working on," he said.
READ: Obama at Boston Service for Victims of Marathon Bombing [FULL SPEECH]