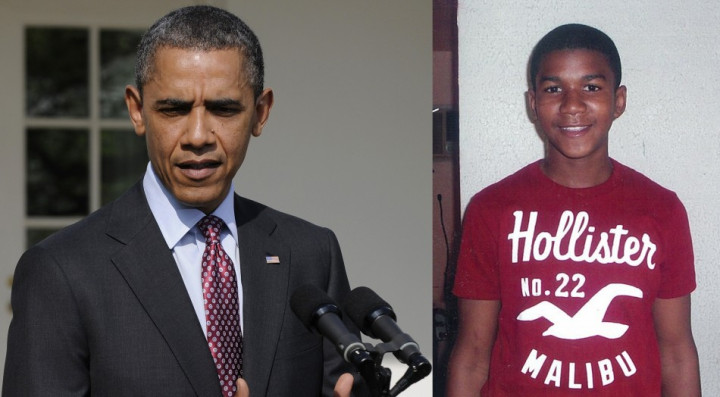 US President Barack Obama has expressed his anger over the death of an unarmed black teenager in Florida who was shot dead on his way back home and called for a thorough investigation into the case.
Trayvon Martin, 17, was walking home with a bag of sweets and a can of drink when he was chased and shot by George Zimmerman, a neighbourhood watch volunteer.
Obama said that every parent in America should understand why it was "absolutely imperative that we investigate every aspect of this".
"This is a tragedy," he said in an emotional address. "I can only imagine what these parents are going through. When I think about this boy, I think about my own kids."
"If I had a son, he'd look like Trayvon," he continued.
Zimmerman said he shot Trayvon in self-defence but the Justice Department and FBI have opened a civil rights investigation following widespread protests.
"What you're seeing is that the Trayvon Martin case speaks to people around the country just like it speaks to people in this community," Benjamin Jealous, president and CEO of the National Association for the Advancement of Coloured People, told AP news agency.
"It would have been easy for people here to say, 'He wasn't one of us, I didn't know him, my kids didn't go to school with him.' But instead, people here are saying what people said around the world, which is, 'He reminds me of my cousin, of my son, or my grandson.'"
Thousands of angry demonstrators took to the streets in Florida, led by civil rights leader Rev Al Sharpton.
"We cannot allow a precedent when a man can just kill one of us and then walk out with the murder weapon," he told the crowd.
Campaigners claimed that the victim was targeted because he was black and wearing a hooded jumper. His parents, Tracy Martin and Sybrina Fulton, claimed his death was a case of racial profiling and have started an online petition on Change.org demanding Zimmerman's arrest. The petition has more than 1.2 million signatures.
Directors Michael Moore and Spike Lee have posted messages in support of Trayvon as the word spread on Twitter and other social media websites.
Twitter messages about the boy have totalled 600,000 times, according to social media monitoring firm PeopleBrowsr. The keywords RIPTrayvonMartin and Where is the justice? went viral on Twitter after nationally syndicated radio host Michael Baisden sent out a message to his 65,000 Twitter followers and 585,000 Facebook fans on the case. "Unarmed 17-year-old boy shot by neighborhood watch captain in Sanford, FL outside of Orlando," the tweet said.
On Facebook, some protesters were wearing hoodies in their profile picture with the caption "Do I look suspicious?"