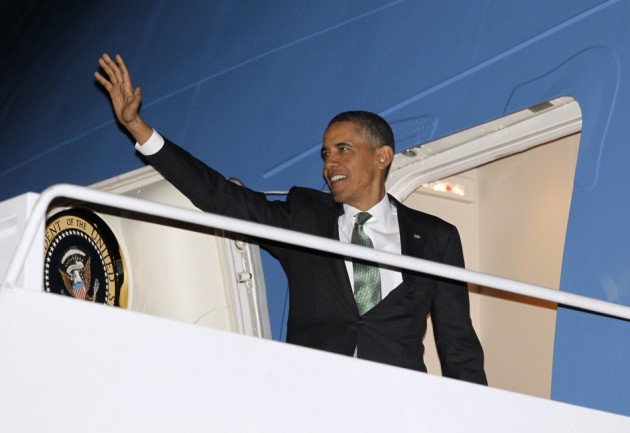 US President Barack Obama will arrive in Israel on a three-day visit amid heavy security in the region.
The ongoing civil war in Syria and Iran's controversial nuclear programmes are likely to dominate Obama's talks with the Israeli leaders.
Israeli Prime Minister Benjamin Netanyahu and President Shimon Peres along with scores of Israeli officials will welcome Obama at the Ben-Gurion International Airport. The leaders will then head to Jerusalem for an official reception at the presidential palace.
The Israel-Palestine peace process is also expected to be a key point of discussion. However, the US authorities have so far been cautious on the issue.
During his visit, Obama will also meet Palestinian President Mahmoud Abbas, as well as addressing Israeli students and members of the public.
John Kerry, the US Secretary of State, has already arrived in Israel along scores of American officials to prepare for Obama's visit. Thousands of police personnel have been deployed to ensure security.
Obama did not include Israel in his travel itinerary in his first term at the White House and the omission was widely criticised, with suggestions of a rift between the two countries.
However, his latest 50-hour visit is expected to strengthen the relationship between the two countries. Much of Obama's trip will be spent in Netanyahu's company.
Ahead of Obama's visit, protesters were also seen demonstrating against the US President in Ramallah and Bethlehem.
"People are angry and disappointed that this far into his presidency, Obama has done nothing, and aid to Israel's occupation continues to flow," a protester named Huwaida Arraf told Reuters.
An Israeli man, who threatened to assassinate Obama, has also been arrested by the authorities.
Obama will head to Jordan for a one-day visit after leaving Israel.