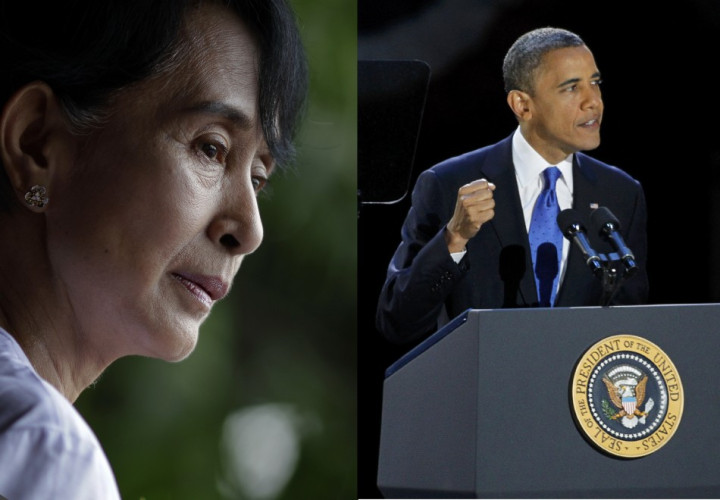 Within weeks of his re-election as US president, Barack Obama will make a historic visit to Myanmar during a three-day tour of Southeast Asia.
Obama will become the first US president to tour Myanmar which has been undergoing rapid political changes in recent years.
During his visit, Obama will meet both Myanmar President Thein Sein and prominent opposition leader Aung San Suu Kyi.
Obama will also make stops in Thailand and Cambodia during his trip from 17 to 20 November. This will be Obama's first trip abroad after his re-election.
US Secretary of State Hillary Clinton visited the country in December 2011.
Obama's visit to Myanmar comes at a time when sectarian violence has been haunting the western parts of the country. The Burmese government has been criticised over the handling of its minorities during clashes.
The US had provided $2.73 mn (£1.7 mn) in humanitarian aid a month back in the wake of the sectarian violence in Rakhine state.
Obama's tour of the country in such a situation is seen as untimely by some experts inside Myanmar, reports suggest.
The White House said in a statement that Obama will "speak to civil society to encourage Burma's ongoing democratic transition." His visit is likely to evoke a mixed response ranging from excitement to anger from the Burmese people and activists.
The government in Myanmar is also implementing a slew of political and economic reforms in recent months and Obama's visit to the country will be seen as a symbolic gesture acknowledging the reforms.
The military rule in the country was replaced by a quasi-democratic government backed by the military after the November 2010 elections. Scores of opposition political prisoners have been released since then including Nobel laureate Suu Kyi, who later went on to become a member of parliament.
Experts are of the opinion that Obama's trip is also intended to ease Washington's relations with Myanmar in order to counter China's dominance in the region.
The Obama administration recently appointed a full-fledged ambassador to Myanmar and eased sanctions on the country as an appreciation of the steps towards democratic reforms.