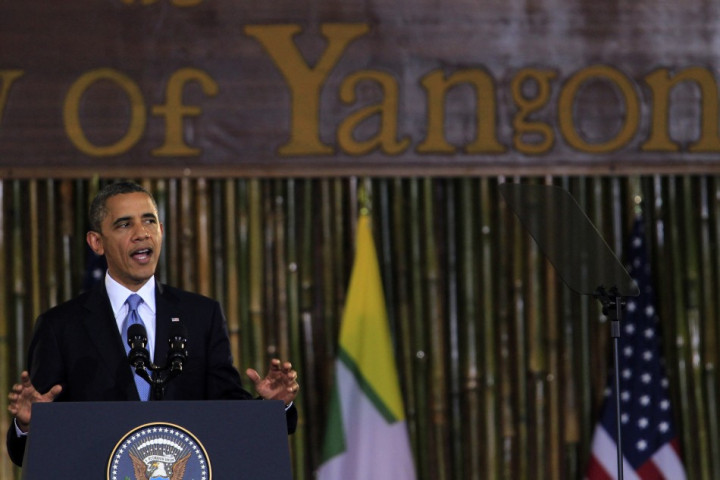 US President Barack Obama has urged an end to sectarian clashes in Myanmar's western state of Rakhine, saying there is "no excuse for violence against innocent people".
During his historic trip to the former British colony, Obama lauded the resilience of the once-repressed people during years of military rule.
"You gave us hope and we bore witness to your courage'" he declared.
Obama is the first US president to visit the Southeast Asian nation, which has long been an international outcast.
In his address at Yangon University, Obama said that national reconciliation will take time but "for the sake of our common humanity and for the sake of this country's future, it is necessary to stop the incitement and to stop violence".
His trip to Myanmar was the centrepiece of a four-day trip to Southeast Asia that began in Bangkok and will end in Phnom Pehn, Cambodia.
Sectarian tension between Rakhine state's 800,000 Rohingya and their Arakanese Buddhist neighbours exploded in June after allegations that a gang of Rohingya men had raped an Arakanese woman. The Muslims were lynched in response, sparking days of rioting.
About 75,000 people remain in refugee camps and a curfew is still in place in some areas.
"Today, we look at the recent violence in Rakhine state that has caused so much suffering, and we see the danger of continued tensions there," Obama said in his speech.
"For too long, the people of this state, including ethnic Rakhine, have faced crushing poverty and persecution. But there's no excuse for violence against innocent people, and the Rohingya hold within themselves the same dignity as you do, and I do," he added.
Ahead of the meeting with Obama, Myanmar's president Thein Sein made remarks about sectarian violence during a briefing with leaders from both communities. He attributed violence to structural causes such as poverty and the geographical isolation of Arakan, and lashed out at Buddhist nationalists and Bengali Muslims for aggravating tensions.
"The country will lose face among the international community if we fail to pursue the norms of human rights and humanitarian work being practised in many countries," Sein warned
The premier also sent a letter to the UN condemning "senseless violence" in the state and claiming the government was prepared to address contentious issues "ranging from resettlement of displaced populations to the granting of citizenship".
The 800,000 Rohingya have never been granted citizenship in Myanmar and a 1982 law excluded them from the list of officially recognised minorities.
Meanwhile, human rights champion and Nobel laureate Aung Sun Suu Kyi, who had always dodged questions over Rohingya in the past, finally spoke out on the dramatic conflict, saying widespread violence in Rakhine state is a "huge international tragedy".
Suu Kyi, however, chose to focus on the problem of "illegal immigration" from Bangladesh instead of taking sides in the conflict.
Suu Kyi said she had not taken sides on behalf of stateless Rohingya, causing concerns among diplomats and human rights organisations, in order to promote reconciliation after recent bloodshed.