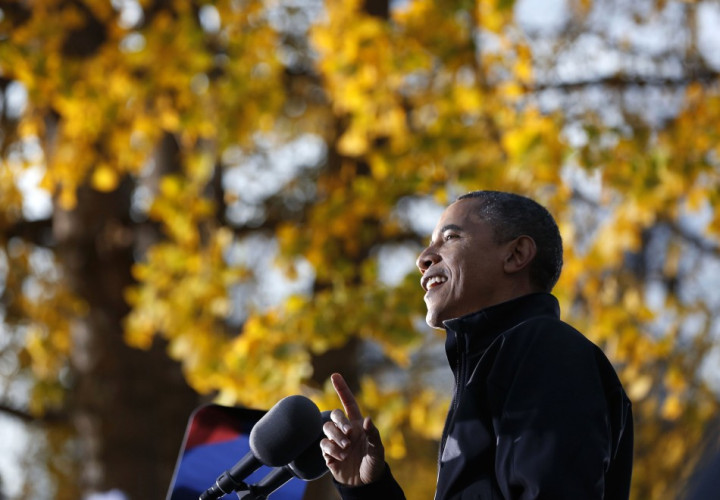 US President Barack Obama and Republican contender Mitt Romney are leaving nothing to chance in key American states as the battleground heats up ahead of the polling day. The candidates descended on the swing states over the weekend to woo voters.
"I want you to reach across the street to the neighbour, who has that other sign in his front yard. And I'm going to reach across the aisle in Washington, DC, to the politicians who are working for the other candidate," Romney said at a rally in Iowa.
Opinion polls ahead of the elections predict a close call, with a slight edge for Obama. Obama has been leading in most of the nine swing states. Analysts suggest the handling of the disaster caused by Superstorm Sandy has given the president a boost.
Hours after Romney's rally in Iowa, Obama addressed a large gathering in the same town of Dubuque. "After two years of campaigning and after four years as president, you know me by now. You may not agree with every decision I made, you may have sometimes been frustrated with the pace of change. But you know that I say what I mean and I mean what I say," said Obama.
While the Republican has hit the campaign trail in New Hampshire and Colorado, Obama has targeted Ohio, Wisconsin and Virginia. Obama was accompanied by former president Bill Clinton in Virginia.
In Ohio, the single-most important state, Obama was seen campaigning intensely where he said the election offers a choice between two different visions of America: "The top down vision that crashed the economy, or a future built on a strong and growing middle class."
Whoever enters the White House needs to secure 270 electoral college votes. As Ohio has 18 college votes, both contenders have a keen eye on the state. No Republican has ever won the White House race without winning the state of Ohio.