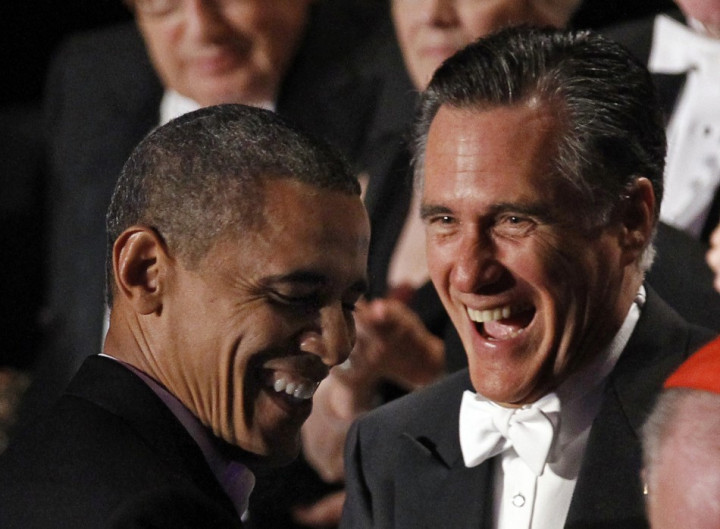 Just a couple of days after the no-holds-barred presidential debate in Hempstead, New York, US President Barack Obama and Republican candidate Mitt Romney shared a stage again - but this time to share a laugh.
Following a tradition dating back to 1960, the White House contenders participated at a charity fundraiser organised by the Catholic Archdiocese of New York, setting aside politics to show the world their sense of humour instead.
"You have to decide which one of us you want holding up traffic for the next four years," Obama told the audience at New York's Waldorf-Astoria hotel, inviting them to "take their seats. Otherwise Clint Eastwood will yell at them."
"It's taken New York's highest spiritual authority to get us back on our best behaviour," said Romney who then poked fun at the President in a light-hearted comment about the people they rely on.
"[We are] very lucky to have one person who's always in our corner, someone who we can lean on and someone who is a comforting presence without whom we wouldn't be able to go another day. I have my beautiful wife, Ann; he has Bill Clinton," Romney said.
"Earlier today, I went shopping at some stores in Midtown. I understand Gov. Romney went shopping for some stores in Midtown," Obama hit back later, alluding to his opponent's reported wealth.
Continuing on the same theme, Romney said: "Already seen early reports from tonight's dinner. Headline: 'Obama Embraced by Catholics, Romney Dines with Rich People.'"
The Alfred E. Smith Memorial Foundation Dinner, in honour of the former New York governor and first Catholic presidential candidate, was first attended by Richard Nixon and John F. Kennedy 52 years ago, and has since then become a must-attend event for the two men running for the highest office.
"A campaign can require a lot of wardrobe changes - blue jeans in the morning, perhaps, suits for a lunch fundraiser, sport coat for dinner - but it's nice to finally relax and wear what Ann and I wear around the house," Romney said, bedecked in white tie and tails.
"This is the third time that Governor Romney and I have met recently. Some of you may have noticed, I had a lot more energy in our second debate. I felt really well rested after the nice long nap I had in the first debate," Obama joked.
"I learned there are worse things that can happen to you on your anniversary than forgetting to buy a gift," the President said commenting his poor performance at the first debate in Denver.
Romney joked about how his Mormon belief helped him in getting ready for that same debate. "Let me tell you what I do: First, refrain from alcohol for 65 years before the debate. Second, find the biggest available straw man and then just mercilessly attack it - Big Bird didn't even see it coming,"
"Of course, we're down to the final months of the president's term. As President Obama surveys the Waldorf banquet room with everybody in white tie and finery you have to wonder what he's thinking: 'So little time, so much to redistribute,'" The former Governor of Massachusetts added.
The pair will meet again on Monday for the last of the three scheduled debates ahead of Election Day on 6 November. In The final debate, in Florida, will focus on foreign policy.
"Spoiler alert: We got bin Laden," Obama said.
"Of course, world affairs are a challenge for every candidate. After my foreign trip in 2008, I was attacked as a celebrity because I was so popular with our allies overseas. And I have to say, I'm impressed with how well Governor Romney has avoided that problem," the president jabbed referring to Romney's controversial comment on London's readiness for the Olympics earlier this summer, and the subsequent reaction in the UK.